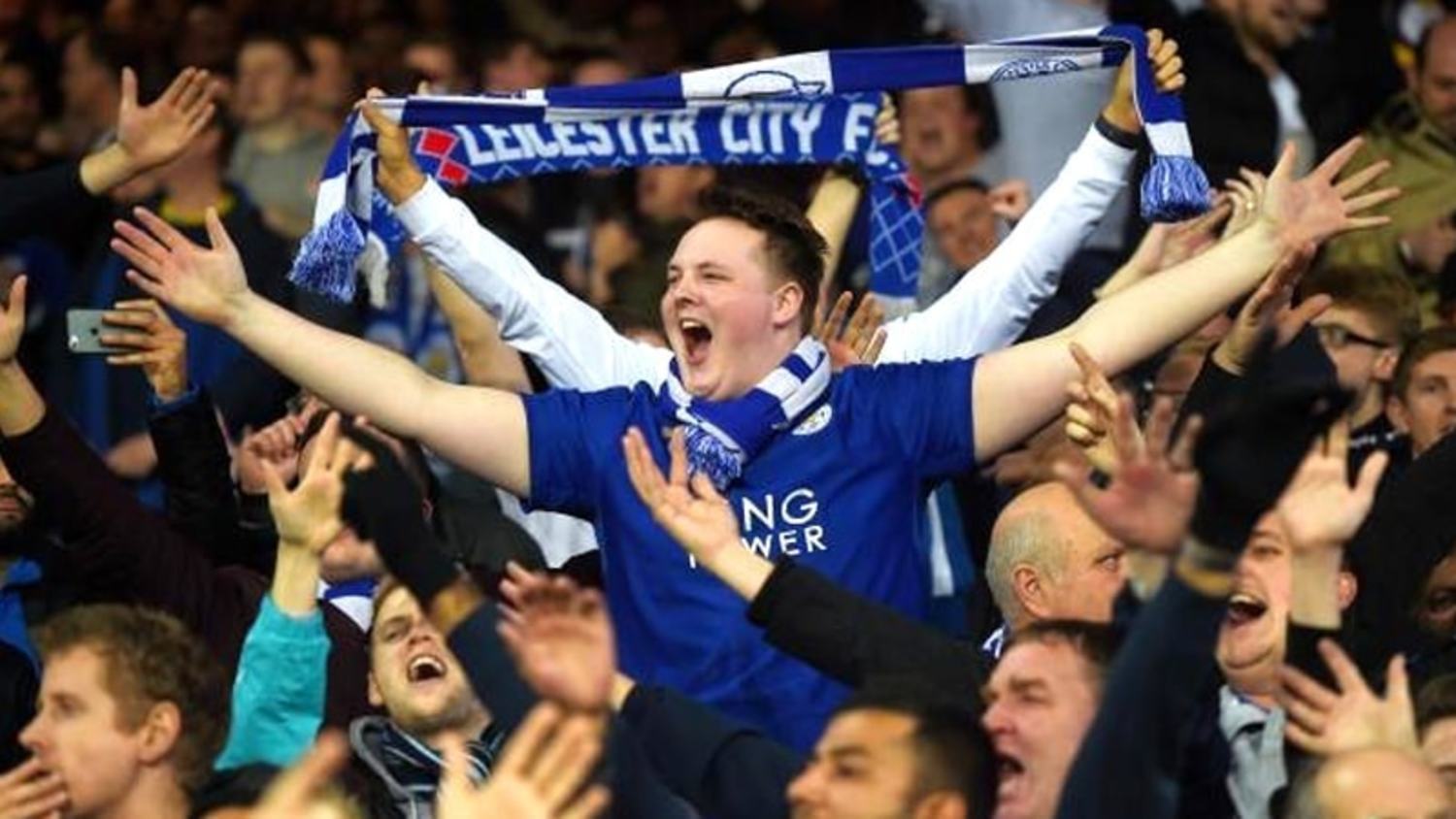 From relegation to possible Premier League champions: this is how it feels...
This is the Leicester City story: April 3rd, 2015, they were 7 points from safety. A year later on April 3rd, 2016, they are 7 points clear at the top of the Premier League.
Life as a Fox has surpassed superlatives at this point. But what does it actually feel like for the fans? Recent news that Leicester were handing out free beer and donuts (yes – it actually happened) was the tipping point for me – without further ado, I boarded a train. What I found was not what I expected …
The day was a blur. Foregoing a ticket, I went in search of the infamous Vardy party. Leicester's hallowed home ground offered little in the way of surprises; smiling faces, free beer and donuts.
Even Jesus seemed to be on the side of the Foxes. Where else in the Premier League would you find a full gospel choir singing happy days, but at the foot of the King Power Stadium?
As the fans gradually filtered into the ground, I made a beeline for the local boozer. Drinking holes near the ground offered increasingly less atmosphere, so, like a frog hopping between sinking lilly pads, I eventually crash landed into the Vardy party – hosted by the Market Tavern.
Home of the Vardy bomb, the Market Tavern is not the obvious choice for a neutral – it's a grim sight from the street – but those inside were as welcoming as anyone I'd met in Leicester. Cliché or not, folk in the Midlands are a lovely bunch. Being top of the league can't hurt.
Kick off in Leicester! Will they edge closer or will Southampton spoil the Vardy party? #LCFCvSFC

— Copa90 (@Copa90) April 3, 2016
The game played out as predicted by the #copafam – an inevitable Leicester win. But the atmosphere during the game – even at a die-hard, gritty boozer like the Market Tavern – had not been what I expected. This wasn't a party – the people of Leicester definitely had something to lose. And they knew it. In search of answers, I found Jason, Glen and JP, three likely lad Leicester fans who'd been through the football ringer one time too many.
First things first – what's it really like to be a Leicester fan right now? JP tells me it's far from a party. "We aren't going mental after every game. It's simple: we don't believe it. We're little Leicester. This doesn't happen." Glen and Jason disagree. "Palace away was the first time I believed we were gonna win the league", says Glen. 
What they do all agree on is that this will be the biggest thing that's ever happened to Leicester – even "bigger than digging up King Richard in a car park", says Jason. "And since we found him, we can't stop winning."
It's true, and their onslaught shows no sign of slowing. "It's just clicking – I would never knock Pearson, but Ranieri has just got something going here. The players, the fans, the owner – everything is working together". It's not a story you hear often in the Premier League, the home of the disembodied and ephemeral foreign owner. Perhaps it helps that Leicester's chairman – one Vichai Srivaddhanaprabha – gives out free beer and donuts on his birthday.
All well and good, but is it all down-hill from here? What about next season? I ask them if they watched el clásico on Saturday. Unsurprisingly, they don't seem interested. "Stick Morgan and Huth on Messi", says Jason. "He's not going to get a look in. But if he's on form, good luck." Still, they've got incredible class in their side – if they can hang onto the players. "They say Kante lost his virginity – but he won it back again. Barcelona, Real Madrid, they're a different class. But our team plays better than the English teams in the Champions League. I've been watching football for 35 years: the Premier League doesn't lie. We're the best."
I ask them if this newfound glory has influenced the city – the way of life in Leicester. "I've just come back from Tenerife. If I had a Euro for everyone who shook my hand and said 'we hope you win it'" – JP pauses – "they called us the people's champion. That stuck up the hairs on the back of my neck."
"Even today", begins Glen, "the Southampton fans were clapping us out. I've been in the club shop today and there's nothing left. Everyone wants us to win. Everyone is behind us."
As a neutral fresh off the train into the city, it's hard to argue. It's impossible not to like Leicester City right now, and if the fairytale becomes reality, the wave of good-will that crashes on the Midlands will be all-encompassing. But they're not getting ahead of themselves. "Come back at the end of the season", says JP. "That's when we'll be having a party."
Are you a Leicester fan? Do you think the Foxes will win the League? Let us know and get in touch – we're following this one to the end of the season.