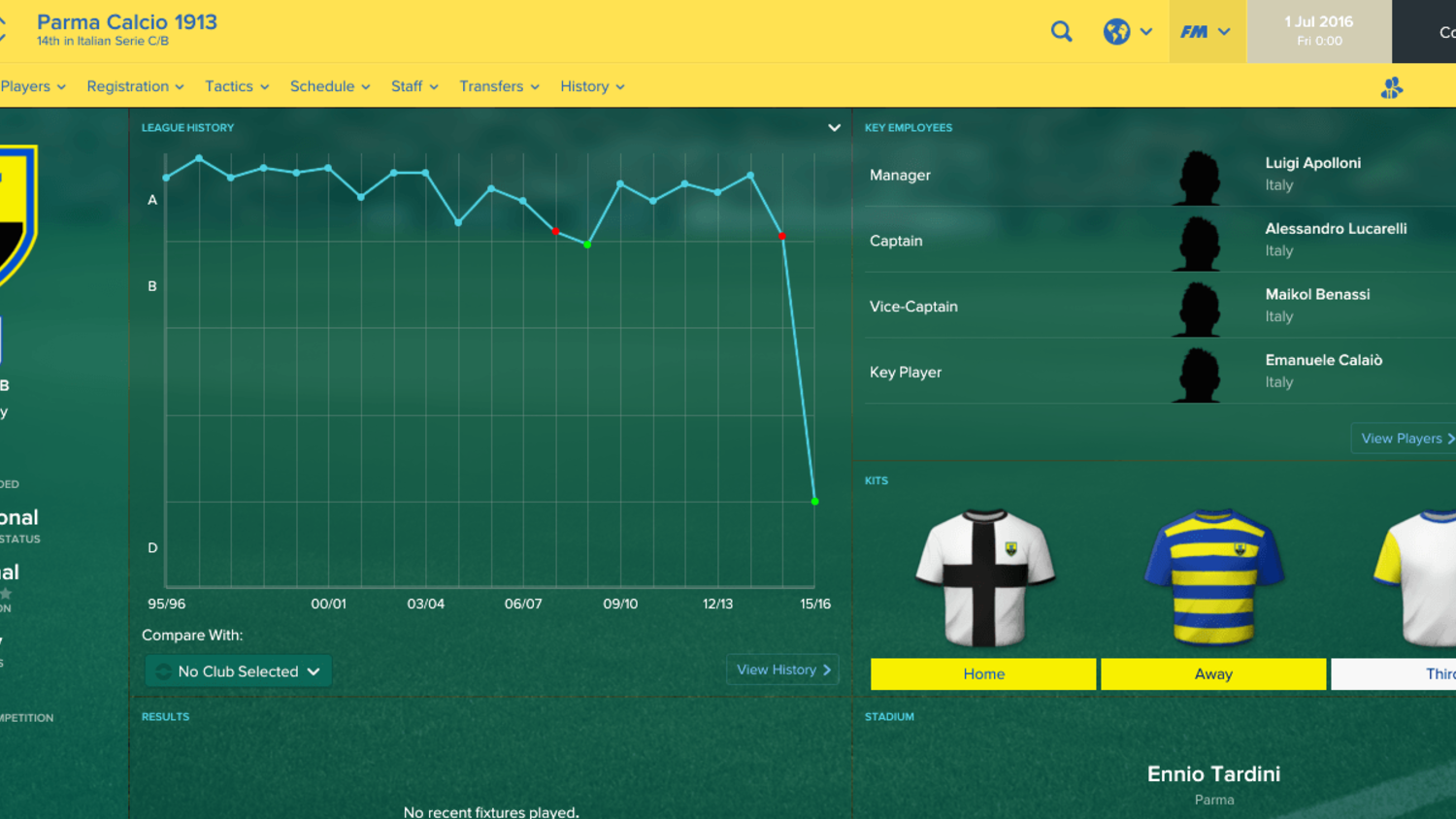 5 Tough Football Manager 2017 Challenges You Should Attempt
If you're struggling to wonder who you should manage in Football Manager 17, we've got you covered. We're setting you five tough challenges to try out in the latest Football Manager throughout different leagues to test your Football Manager skills. Make sure you keep us posted with your progress in your chosen challenge in the comments!
Salford FC: The Paul Scholes Challenge (DIFFICULTY: HARD)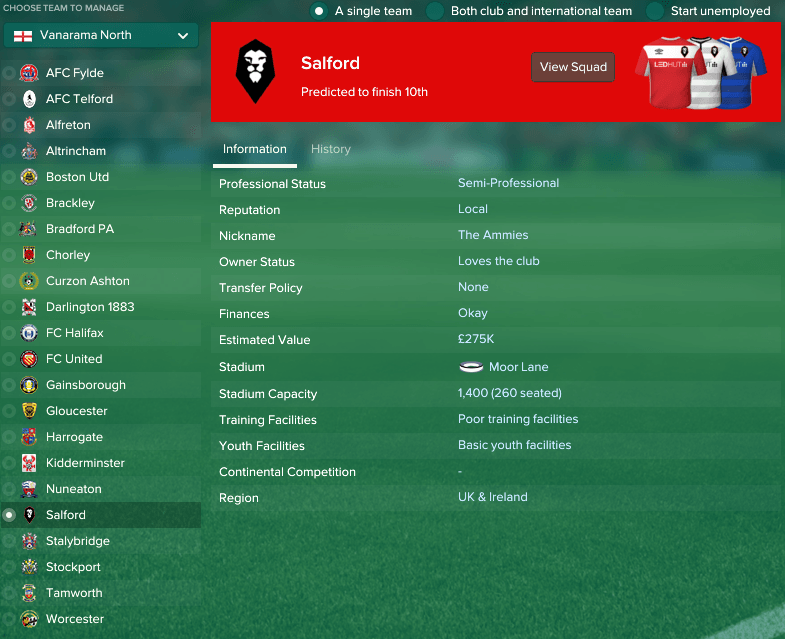 One new addition to the latest edition of Football Manager is 'the Class of 92's' football club, Salford FC. Earlier this year, Salford co-owner Paul Scholes spoke about the ambitions of the Vanarama Conference North side. They hope to rise through the leagues into the professional game. "There has to be a purpose to a football club. The purpose is to go as far as we possibly can…we want to be playing Championship football." Paul Scholes
It will be a very tough challenge but you have good foundations. The first step is getting yourself into the Conference and if you're going to make it, star player Richie Wellens is definitely going to be vital. He might be old, but Wellens has the ability to take your Salford team to the next level. Obviously being a Conference North side you don't have endless budgets to work with but there's a little bit of room to bring in one or two with £500pw in wages to spend and £7,000 transfer budget. If you want a 'quick win' game this isn't for you, but if you fancy a long term challenge look no further…
CHALLENGE: REACH THE CHAMPIONSHIP WITH SALFORD
Parma: Back where they belong (DIFFICULTY: MEDIUM/HARD)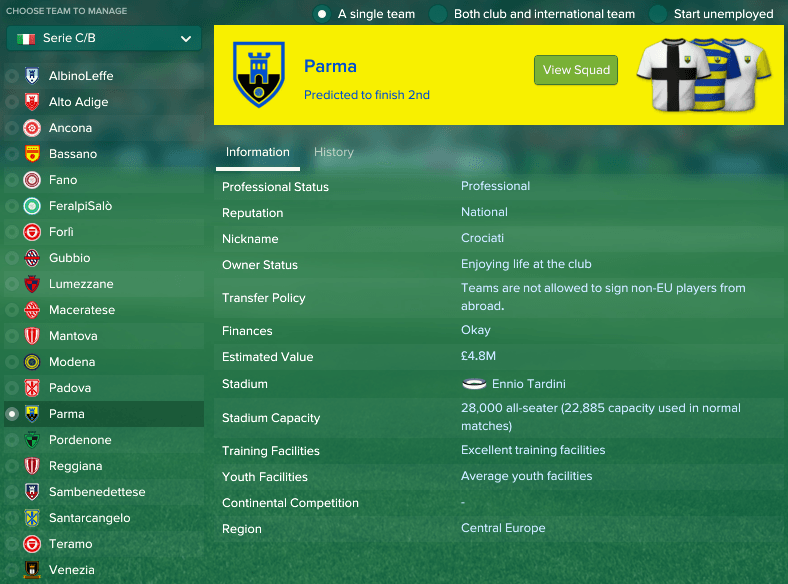 This one will be very popular. Nothing is more inticing to Football Manager fans than a sleeping giant. While the story of Parma is slightly more tragic, you can bring Parma back to where they belong in the new Football Manager edition. A team that once had Gianluigi Buffon, Fabio Cannavaro, Lillian Thuram and Hernan Crespo  had to start all over again after their insolvency, and the challenge now is simple… start the next Parma revolution.
After their promotion to Serie C last season, the Parma squad in Football Manager is definitely ready for another promotion push. Target man, Emmanuel Calaio might be 34 but there's no doubting he will find the back of the net in the third tier of Italian football. Add to that the ability of star midfielder Manuel Scavone and loanee Michele Canini, and you've got yourself an experienced Italian core capable of leading you to Serie B. With £250,000 transfer budget to play with, there's a little bit of wiggle room to improve the already impressive Parma side.
CHALLENGE: GET PARMA BACK TO WHERE THEY BELONG, SERIE A
Aston Villa: Dr. Tony Xia's 5 year plan (DIFFICULTY: NEARLY IMPOSSIBLE)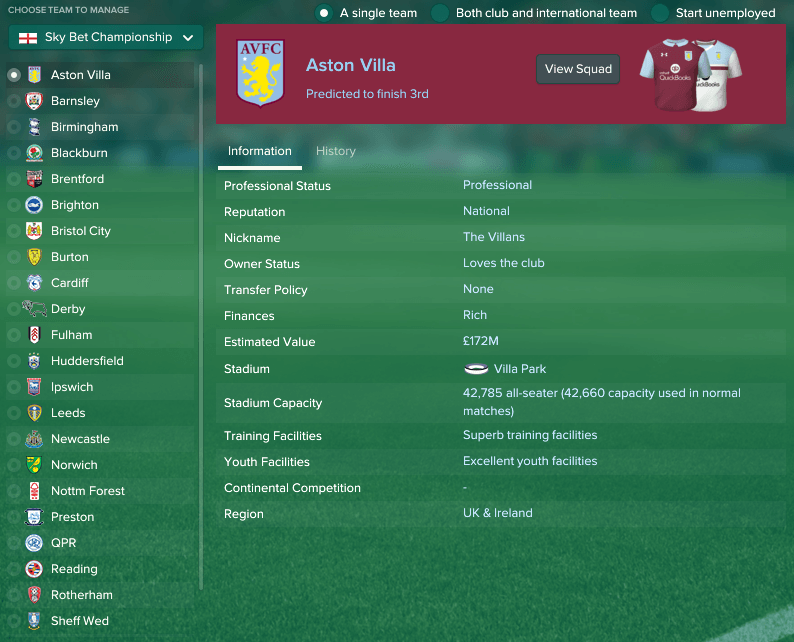 After their relegation, you'd think the 5 year plan would be to get back into the Premier League, retain their status and re-establish Aston Villa as a solid Premier League side once again, well not if you're Dr. Tony Xia. After acquiring the club in August, Xia claimed that in 5 years Aston Villa would be the biggest club in Europe, seriously. "The top club in Europe with the highest number of fans all over the world." Dr. Tony Xia
While it isn't easy to track fan growth in the game. If you're somehow able to win the Premier League and Champions League by 2021, you've done well. Very well. While you definitely have no players who would be a part of 'The best team in Europe' at Aston Villa the likes of Jordan Ayew will be essential if you have any chance of building a team capable of winning any trophy what so ever. With a £5 million transfer budget and a strong squad for the league, getting out of the Championship shouldn't be an issue, becoming the best club in Europe, winning titles and Champions League's on the other hand, not quite so easy. If you somehow make Aston Villa one of the top clubs in Europe by 2021, we want to know about it.
CHALLENGE: BECOME ONE OF THE BEST CLUBS IN EUROPE BY 2021 (SOMEHOW?!)
Partizan & Serbia: European Dominance with Serbia (Difficulty: Hard)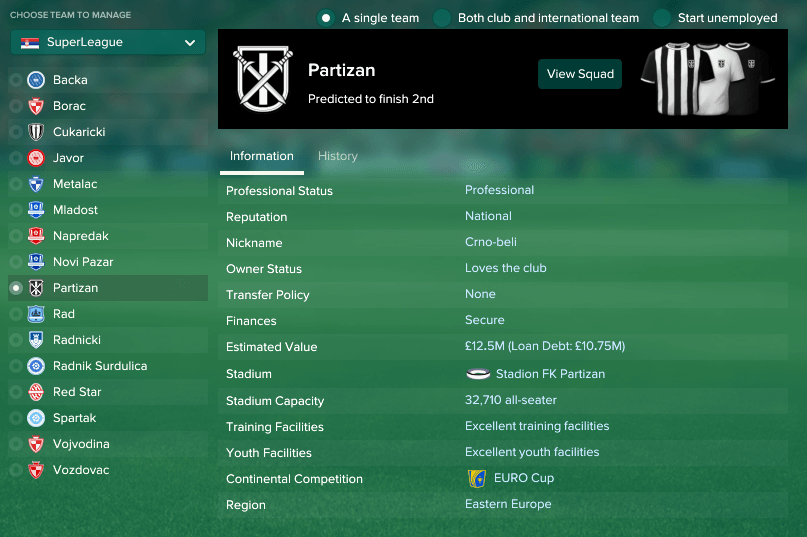 This is a belter, if you think you're good enough. So if you weren't aware, you can manage both a club and country on Football Manager 17 at the same time. So if you want to create the golden generation for a country you can control a club with the hottest prospects and train them up to be world beaters. Look no further than Partizan. The Serbian club has continuously brought through the country's greatest wonderkids and with Excellent Youth Facilities in the latest game that will not slow. You already have the likes of Nemanja Mihajlovic who will massively impress in the future, and the regens that will follow could be world class. Once you've nurtured that golden generation it's on to the international challenge.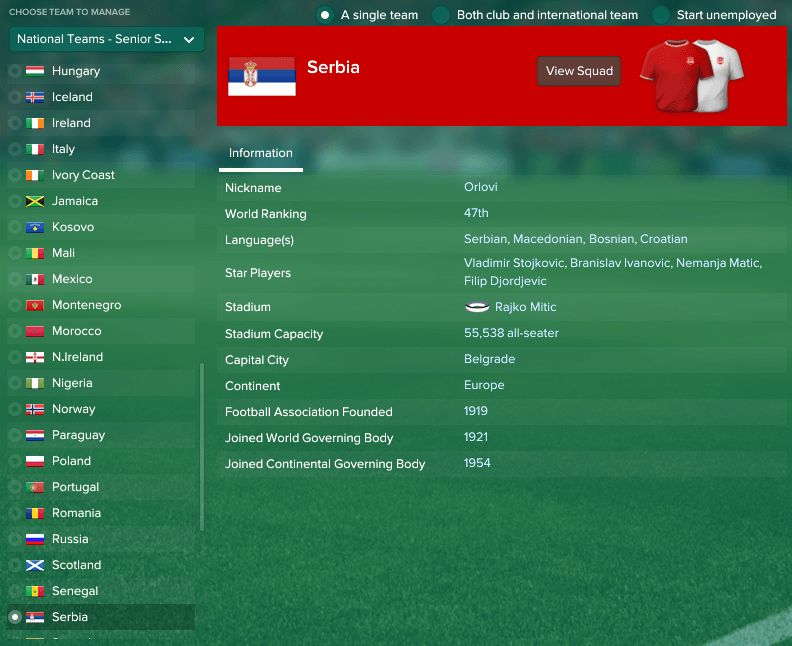 Once you've brought through them youngsters it's time to try climb up those European rankings and ultimately win a major competition. With the likes of Matic, Nastasic and Mitrovic already there, you have a good core to build around, but can your Partizan golden generation win Serbia an international title?
CHALLENGE: WIN A MAJOR INTERNATIONAL COMPETITION WITH SERBIA (BONUS POINTS: WITH AT LEAST 1 OF YOUR OWN YOUTH PRODUCTS)
Minnesota United: MLS Journey Begins (DIFFICULTY:MEDIUM)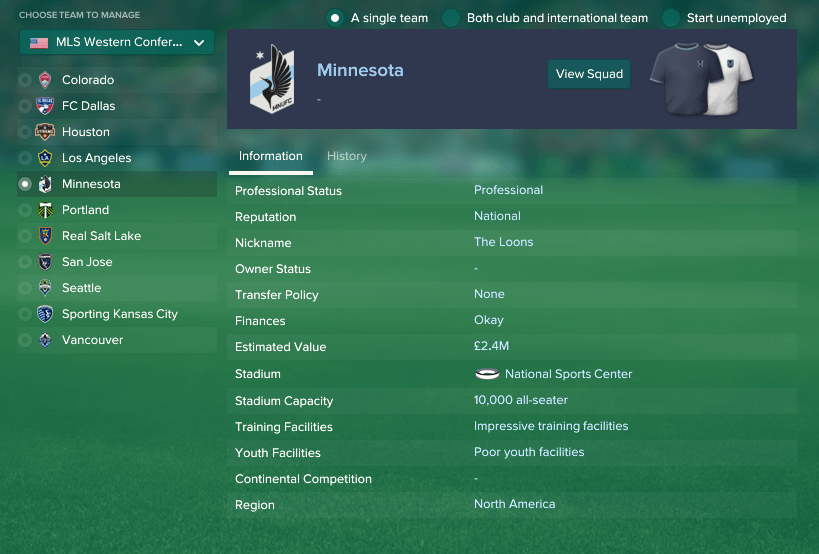 The toughest challenge of the two teams entering the MLS in 2017. Yes, you'll have a little wait before joining the MLS but the league is as interesting/confusing as you can get in Football Manager 2017. Yet to bring in any designated players you have a fairly clean slate to work with and the likes of Ibson in the middle of the park you have the opportunity to build a half decent team.
The real excitement comes with the MLS draft. Being a new club you'll have a good shot at finding the next big stars to come out of the MLS in the draft as you look to build Minnesota United into a team capable of competing in the MLS playoffs. Can you take 'the Loons' (yes, that is actually their nickname) to champions of MLS?
CHALLENGE: WIN THE MLS PLAYOFFS WITH MINNESOTA UNITED