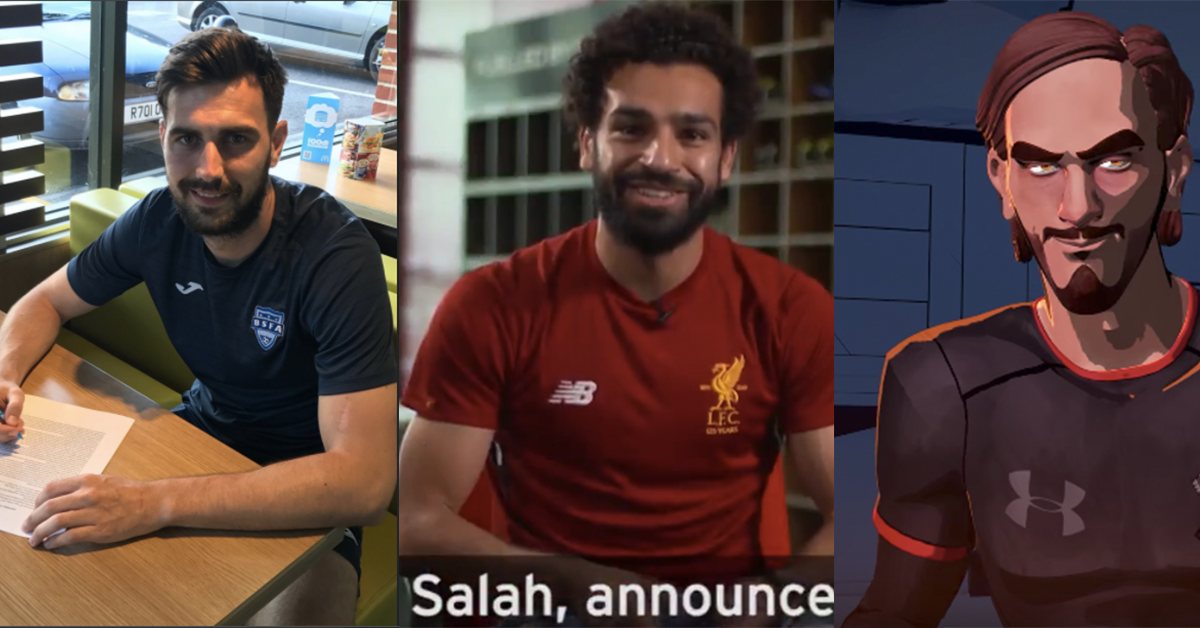 Top 13 Player Announcements On Social Media This Summer
Now that the transfer window is officially open, rumours are solidifying and actually turning into done deals that have to be announced. But simple pictures of new players or managers holding up a scarf or shirt don't seem to cut the mustard anymore. With endless ITK Twitter accounts and 24 hour rolling news confirming things before the clubs themselves, they've had to bring something new to the table. That's why this summer has been the window of the novelty social media announcement, here are thirteen of our favourites ranked from worst to best.
13. Jaap Stam staying at Reading
In case you somehow missed it… https://t.co/HrX6KzTkxo pic.twitter.com/mJP1JVcQKH

— Reading FC (@ReadingFC) July 5, 2017
Sure, the phrase 'delete your club' is deployed heavily and often unfairly but if ever there was an example of the correct usage of it, it's surely in response to Reading's Jaap Stam announcement. Yes, Batman does rhyme with Jaap Stam but was there any reason to act on this coincidence? No there wasn't. But try telling that to Reading's social media team – you'd be laughed out of town. Laughed out, mate.
12. Josh Tymon to Stoke
👀 @JoshuaTymon signs a five-year deal with #SCFC#WelcomeJosh 👍 pic.twitter.com/Unx4RY7v3K

— Stoke City FC (@stokecity) July 5, 2017
Josh Tymon is, at the time of writing, the latest player who's been coerced into self-announcing his transfer, forgetting to turn caps lock off and using exclamation marks like they're going out of fashion in the process. Pause the video of the highly rated young left back tweeting and you can see that nobody's slid in Stoke City's DMs recently and for some reason Tymon has his own Wikipedia page open.
Aesthetically this is a bit sad too, we can practically feel the heat coming off the Windows PC from inside a stuffy office somewhere in the Britannia. A strange look behind the curtain and one we wish we hadn't had.
11. Jan Bednarek to Southampton
✍️: @SamGallagher40
✍️: @jackstephens_18
✍️: 👀#saintsfc pic.twitter.com/AaGFM9Cnfe

— Southampton FC (@SouthamptonFC) July 1, 2017
The idea of teasers is a solid one, give the viewer a bit of a clue but retain an element of mystery – everyone speculates and has a nice time. Unfortunately the only hint Southampton gave the world about their new signing Jan Bednarek was that he spoke broken English. Honestly, lads there are quite a few people who can speak imperfect English – you could've thrown us a bit more of a bone than that.
10. Wolves kit launch 
Wolves took the meaning of 'kit launch' in a very literal sense this year, deciding to send a 17/18 shirt up, up and away from humble beginnings in a Black Country park into space. Haters will say it's green screened but they get bonus points for the soundtrack which encompasses everything from breakbeats to reggae banger 'Chase The Devil' in just two minutes. There was one hitch, though, the shirt was in a kids one with an adult size sponsor on, a very minor hitch which they were forced to clarify after fans protested on Twitter.
9. John Terry to Aston Villa
📱✍️ pic.twitter.com/G2DxMQhAv6

— Aston Villa FC (@AVFCOfficial) July 3, 2017
Perhaps it shouldn't have come as a surprise that a club owned by a man who uses social media as erratically as Tony Xia would have a trick up their sleeves for a signing of this magnitude. While we're flattered that they've taken inspiration from our leaked texts series, implying that Terry is a better player than a genuine Villa legend like Paul McGrath before he's even kicked a ball for them is strange behaviour.
8. Charlie Taylor to Burnley 
SIGNING | Introducing the newest addition to the Clarets… pic.twitter.com/t43hobpZWZ

— Burnley FC (@BurnleyOfficial) July 6, 2017
Take note Southampton, this is how you do a teaser. Okay most of us probably wouldn't recognise Charlie Taylor if he walked past us in the street but this one still had us guessing right until the end. Not the most original idea in recorded history but solidly executed and enough to earn a mid table berth in our rankings.
7. Mo Salah to Liverpool
— Liverpool FC (@LFC) June 22, 2017
Another one playing on the endless fan requests for signings. Taking inspiration from QPR's seminal #AnnounceRavel tweet, this one's very sweet and you can't help but love it. Look at the smile on Salah's little face and listen to the joy in his voice as he announces his own signing. Give it two bad games and he'll be labelled a fraud but for now he seems over the moon to be there. There's no joke here. Good for him.
6. Lorenzo Pellegrini to Roma 
🎮⚽️… 🆕🔶🔴❗️#ASRoma pic.twitter.com/mjgBrwduHV

— AS Roma (@OfficialASRoma) June 30, 2017
You like FIFA, I like FIFA, we all like FIFA but nobody likes FIFA as much as actual footballers. They've got so much spare time but enjoy this one pursuit above all others, so Roma's announcement makes sense. The custom pointing to the name on the shirt celebration is a nice touch but minus points for playing Roma v Roma rather than Lazio for a bit of off season needle.
5. Frank de Boer to Crystal Palace
💭💭💭 pic.twitter.com/ruXld8jy08

— Crystal Palace F.C. (@CPFC) June 26, 2017
A new manager in south London means, you guessed it, an announcement! What do the Vatican and Selhurst Park have in common? Yeah they've both got a Palace, and now they both share the same changing of the guard routine. Except this white smoke is coming out of a jerk chicken shop; very on brand, very London, like it.
4. Southampton kit launch 
The future, if we take that to mean mini video series kit launches, is here! Saints stars are lovingly made into cartoon figures and battle to find the stolen 2017/18 kit. Complete with a gripping narrative arc and a cliffhanger ending between parts one and two this is a proper gamechanger. Things will never be the same.
3. Jay Rodriguez to West Brom 
… 👀#WBA pic.twitter.com/zVmXeEYMmf

— West Bromwich Albion (@WBA) July 2, 2017
The Baggies have absolutely had your little brother here. You've tried to tell him that he should get outside a bit more and stop spending nice summer days indoors smashing F5 on gossip sites but he just won't listen. Now his team's official Twitter have got so sick of his antics they've actually @'d him so he finally stops. But what's this? Oh no. High on an overinflated sense of his own power he's convinced he is the omnipotent transfer God of the Midlands and is at it again…
2. Matt Paterson to Oxford City
ICYMI | We are delighted to announce Matt Paterson has joined ahead of the 2017/18 season pic.twitter.com/SyUHAf5jiM

— Oxford City FC (@OxCityFC) June 2, 2017
The Conference South side announced the arrival of Matt Paterson by tweeting a picture of him signing da ting in a McDonalds with a pen from Barclays. This might have started as a self-aware joke about people's preconceptions of non-league professionalism, but it needs to become industry standard. Lukaku signing for United in a fish and chip shop in Stretford with an Argos pen next, please.
1. Jake Gray to Yeovil Town 
The new @Snapchat feature is pretty cool. You can see who's at Huish Park…✍️⚽️😉 #YTFC pic.twitter.com/YhFHRd7wM0

— Yeovil Town FC (@YTFC) June 26, 2017
This cross between Pokemon Go and Sky Sports News is a triumph. Genuinely innovative and creative this is the best transfer announcement so far for our money. Reports that Yeovil have slapped a £30m price tag on their media man amid rumours of big money bids coming in from Real Madrid and Barcelona are yet to be confirmed.