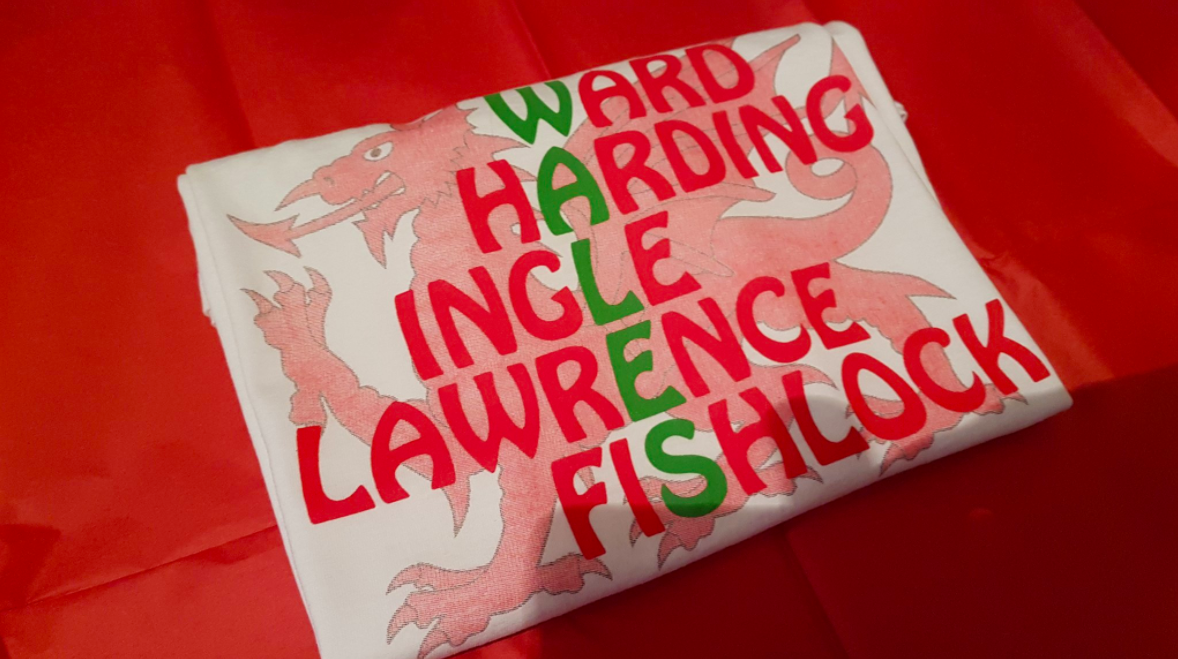 CELEBRATING ONE YEAR OF FOOTBALL CLOTHES DESIGNED FOR WOMEN (WELL, IF YOU'RE A WALES FAN)
Welsh football podcast duo "Coleman Had A Dream" sat down with Haley of FeWales to discuss the company's successful first year, being a woman in football, the Welsh national women's team and plenty more.
Any female football fan has run into the same problem at some point or another: the dearth of gear, whether official or unofficial, made specifically for women — and that the little gear that has either has a plunging neckline or is suddenly, inexplicably turned pink. When it comes to the clothing industry in the football world at large, women seem to be either ignored or treated in the most stereotypical sense.
One woman who's done her part to change that is Haley, who founded and runs FeWales. FeWales is a clothing company specifically "catering for the females of the Red Wall" — what Wales players have named their supporters, echoing Dortmund's "Yellow Wall" — because, as she told Dai and Ruth of "Coleman Had A Dream" on the latest episode of their podcast, she found that "everything was in men's sizes and all catered for males."

(The full episode can be found here; Haley's interview begins at 39:15.)
After years of carrying the idea around in her head, a year ago she finally decided to act on it and began to design T-shirts to fill the gap she found for the female fanbase. And as Haley discusses on the podcast, that fanbase has only kept growing since she started going to Wales matches 17 years ago; it's remarkably large over the years, whether due to a change in "confidence," "environment," or both. (One time, she remembers going to a match and there being no women's restroom.)
"We should be bloody welcomed, quite frankly," she says, "We pay our money, we love the sport, why should we ever be excluded from it?"
And thanks to FeWales, they're excluded in neither the stands nor on the shelves. Her designs cover both the men's…
Jingle Bales! Available in women's fit, or if you prefer your jumper a bit looser, unisex sizes. £1 from each jumper sold donated to @GolCymru https://t.co/uUh8DqkFfJ pic.twitter.com/kJFvx7t03m

— feWales (@fe_wales) November 27, 2017
…and the women's game.
Unbeaten and group leaders. Heroes @sophieingle01 @LawrenceNadia @tashharding09 @HayleyLadd @helenwardie10 @kayleighgreen22 @JessFishlock @loren_dykes @FAW_Womens pic.twitter.com/R2Qadc6pIF

— feWales (@fe_wales) November 28, 2017
Recently, one of her other designs also caught the eye of the Welsh women's team. At their most recent match against Kazakhstan, the mascots — 22 Tredegar Girls AFC players — wore her t-shirts out at the start.
Hope your girls love their t-shirts, it was a really proud moment to see them on the pitch! https://t.co/xcnSQKuymt

— feWales (@fe_wales) November 25, 2017
(That Welsh women's team, by the way, will finish 2018 top of their Women's World Cup qualifying group. On the pod, Haley discusses their recent performances and looks ahead to their big test away to England in April.)
That's quite a lot to celebrate on your first birthday. And so it makes a load of sense that Haley's only regret from the past 12 months is that she'd have "done it sooner."