Champions Crowned This Weekend: Norwich & Frosinone Reach Top Flight Football
Winning a trophy or progression into a new division is much more than a result on  a football pitch.  It can mean something to an entire city or town.  They restore pride, bring wealth to a town, and most importantly, create closer ties within a community. There were a number of title victories this weekend, and despite one even coming in a derby, what we really learned was just how much football can restore a sense of local pride.
Supporters culture in France is often overlooked.   This weekend Saint-Etienne took on Guingamp in the final game of the League 1 season.  They began the match with an epic pyro show in the stands of the Stade Geoffroy Guichard.  Following the 2-1 victory the supporters of Les Verts supporters invaded the pitch, celebrating their qualification to the Europa League.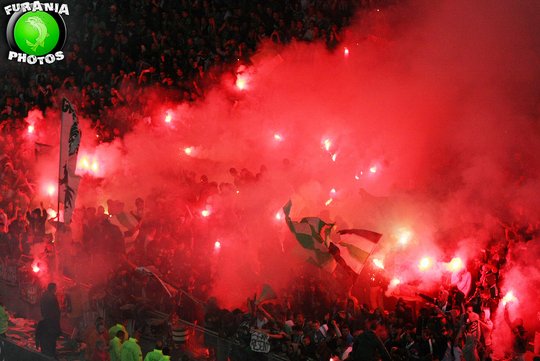 Frosinone supporters celebrated their promotion to the Serie A in a typically Italian fashion.  This is the clubs first promotion to the first promotion to the first division since their reformation in 1990.  Members of Frosinone's Curva Nord put on a choreography with the clubs unique colours, as well as displaying a banner with the slogan, "Our Colours… The symbol of Victory and Tradition".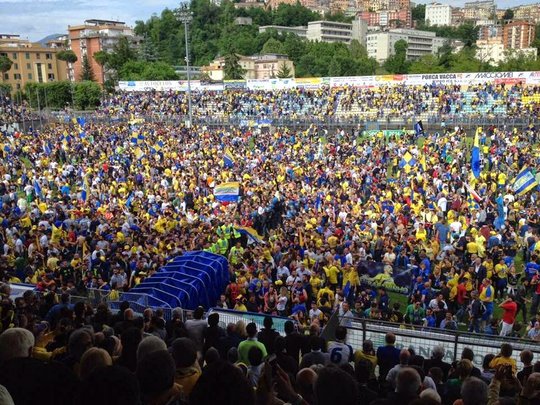 Serbia's terraces are absolutely electric.  The Cup Final match between Partizan and Čukarički was an fever pitch.  Partizan's Grobari marched through Belgrade before putting on a performance for the ages for their team.  We have become all to familiar with the kind of atmosphere that the Serbian league can provide… But Hey! We Just Can't Get Enough!
It has been a beyond problematic season for Greek football. This weekend Olympiakos defeated Xanthi in the Greek Cup final, and the supporters, who have struggled with a number of stadium and match-day bans, came prepared.  The match, which ended 3-1, was punctuated by a series of pyro shows and banners, protesting members of the Greek league and football federation for their handling of this chaotic season.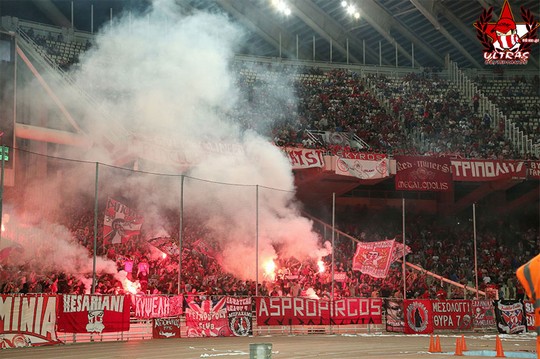 More Photos on UltrasTifo

The supporters or Marocco's Wydad Casablanca celebrated the title in the last round of the season with a "300" themed choreography.  The massive Tifo spanned across the entire 55,000 capacity Stade Mohamed. Morocco's supporters have gained an extremely good reputation for their colorful displays of devotion.  This sort of support bodes well for the future of football in this North African nation.