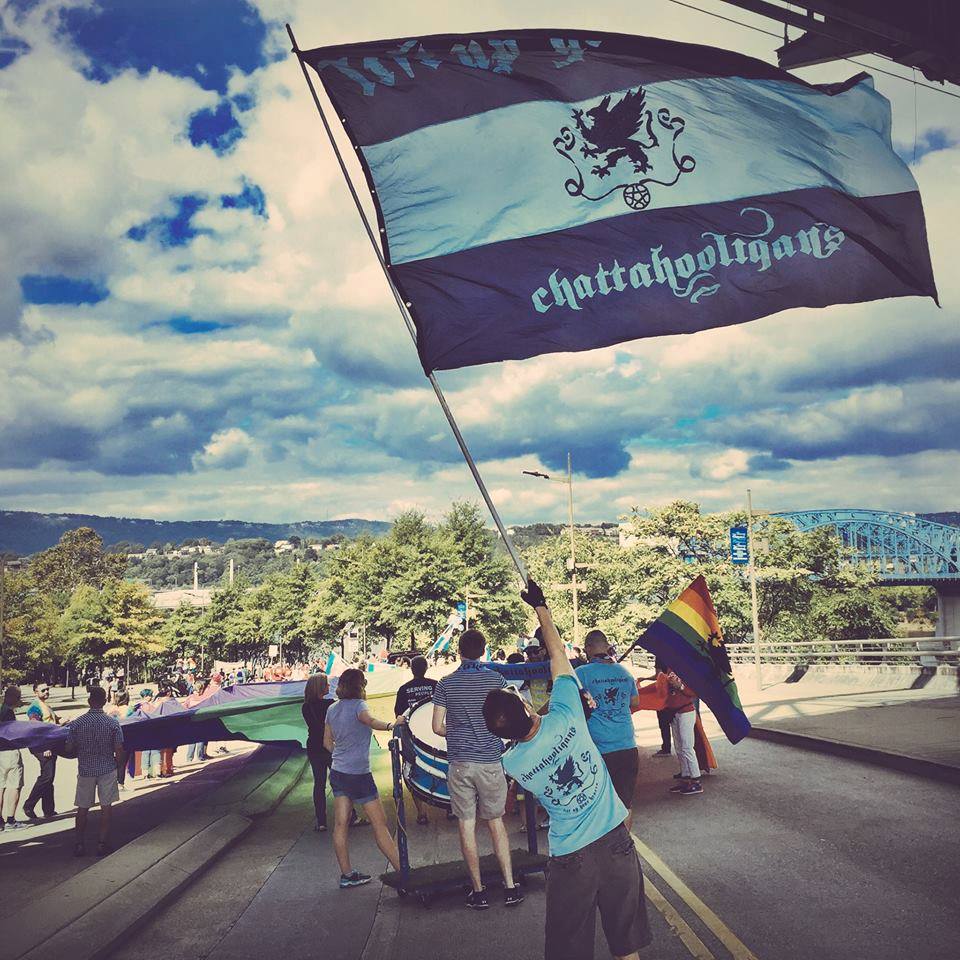 For Pride Month, supporters groups put their money where their goals are
What started as the idea for one accessory at one game turned into a five-figures-pledged fundraiser in June.
Chattanooga FC's Chattahooligans absolutely do not Stick To Soccer. And so the morning of June 1st, when capo Galen Riley realized it was Pride Month, he knew that he needed to do something about it.
At first he remembered he had a rainbow bandana, and thought he'd tie it to his arm for Chattanooga's WPSL match the following day.
But "just displaying the thing didn't seem like enough," Riley quickly decided. And although money didn't quite either, but it was "one step better than nothing."
Added Riley: "I knew I wanted to tie it to soccer somehow, and the idea to do a pledge-per-goal popped into my head.
"I was already familiar with the work of the Tennessee Equality Project, and I'd sent them money in the past, so a quick message to a local LGBTQ+ activist friend verifying that TEP was the best destination…confirmed that decision."
And then all that was left was a group-wide call to action. (Luckily, for a group like the Chattahooligans — who "always [seem like we're] up to something or another, either volunteering as a group in something, participating as a group in a charity 5K, or hosting a fundraiser event at our tailgates" and have raised more than $15,000 this year across all initiatives — that is not too difficult a call to make.)

Riley's post also caught the eye of Dean Simmer, a capo with the Northern Guard Supporters of Detroit City FC. "It was one of those things I saw and thought, 'wow, that's a cool and easy way to have a positive impact here too.'"
And one that, as with the Chattahooligans, already fit the group's style. "Each season, Detroit City FC has had a charity partner," Simmer explains. "Back in 2014, DCFC made waves for being one of the first US clubs to wear Pride jerseys. The charity partner that year was the Ruth Ellis Center, a service organization and shelter in our community that provides resources and housing for LGBTQ teens.
"Teens, especially LGBTQ teens, have an incredibly high rate of suicide relative to the overall population, so supporting Ruth Ellis in [the Prideraiser] campaign felt natural. …[And] since this is a sports thing too, I wanted to support the YouCanPlay Project for their work on equality and rooting out discrimination in sports."
Added Jackie Carline, another NGS capo who shortly joined Simmer in helping manage Detroit's campaign: "I feel confident in saying that we are always looking for ways to ensure our supporters section and game day experience are an inclusive and safe space for everyone. When we saw what Galen was doing in Chattanooga, it seemed like a fantastic — and accessible — way to raise money for the LGBTQ community and promote inclusivity."
Simmer then followed Riley's lead with a post of his own the next morning.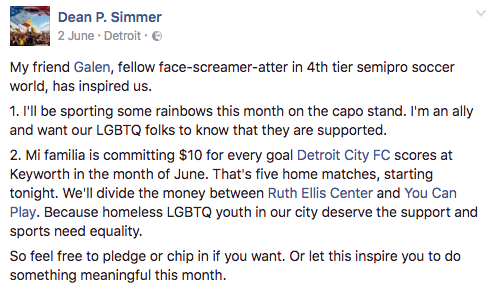 From there, Riley and Simmer both continued targeting their two groups individually with daily pledge posts. Two days later, Dean's post referred to the efforts as a "Prideraiser."
"Honestly, I don't know how he conjured it up, but it had the right hook to it so you knew it was a winner," says Riley. "I…realized he was onto something with the name and, when I got home, checked to see if prideraiser.org was available. It was, so I nabbed it and sent him a screenshot saying 'I bought something for us.'"
The newly-minted Prideraiser snowballed quite quickly from there. On the road to an WPSL away match at Nashville the next morning, Riley's partner Becca registered Prideraiser Instagram and Twitter accounts from the passenger's seat; around the same time, Carline joined on; and on June 11, Simmer set up and launched the website Riley had brought, to which a logo was added the following week.
That last step, says Riley, is what finally "made it A Thing."
"Once we 'announced it formally' [with a name and web presence], people in our immediate spheres of influence — Chattahooligan and NGS are among the bigger fish in the American nonleague soccer space — took notice."
Clubs from Memphis and Dayton, Ohio joined. Then came Grand Rapids.
Then still, the Portland Thorns' Rose City Riveters. With their size and their influence, that's when Riley thought it would really take off in other leagues and cities.
That didn't quite happen; some groups Riley approached, and even those that seemed interested, just never ended up following through. But, in actuality, that was okay.
"It still turned into a success beyond my wildest expectations," says Riley. "I originally figured it would be a fun way for me to spend a hundred bucks — I expected 10 goals for the month and maybe another $20 in matching pledges for $300 total."
Instead, across five of the seven participating clubs — Cleveland, Detroit, Chattanooga, Portland and Grand Rapids, with Memphis and Dayton having not reported their final numbers yet — the Prideraiser had over $12,000 pledged. Of that, $6,171 comes from Chattanooga and just under $4,500 from Detroit.
"Seeing five figures in pledges for what will become an annual campaign is absolutely stunning," says Riley. And he, Simmer, and Carline all see it getting bigger and better from here.
"Every local campaign organizer I've talked about has expressed interest in repeating the Prideraiser initiative next year, and I know I want to do it again here. That is heartening," says Riley. And though there is work to be done to keep it growing, "the 10-month NPSL offseason affords a lot of time to work on projects."
Though the Chattahooligans haven't had a formal discussion of what future success looks like, Riley has some ideas to start. He'd like to build "a real website to track pledges and dispatch emails and whatnot"; he wants to see the the Prideraiser "embraced more widely around leagues like NPSL," believing that they can easily grow to 50 local campaigns over the next two years.
"If we can pick up a couple of local campaigns with pro team supporters groups, then all the better and it'll surely grow from peer pressure alone," he says. "I mean, the idea is stupid simple,"
Simmer agrees: ""The biggest thing we want to do is to leverage the interest from other [supporters groups]. In addition to Chattanooga and Detroit, we had five other SGs in the US launch campaigns. We need to build out some easy-to-use resources for launching locally that we just didn't have the time to do this year.
"Ultimately we're fourth-tier-face-screamer-atters, not fundraisers. Knowing that we have ten months until we do it again gives us some time to catch our breath, recover our voices, and make the tweaks for next season."
Adds Carline, "Next year will be a bit more of a well-oiled machine."
Getting Prideraiser to that point means that the offseason won't be so 'off' at all, between panning and outreach and organization; 11 months can fly by. But to groups like the Chattahooligans and the Northern Guard Supporters, it's time and effort that could not be spent in any better way.
"I think that, if you have influence, then it is a moral imperative to use it as a force for good," Riley says. "The Chattahooligans have, over time, become a big deal in a small city, so giving back has become an important value to the community we've built."