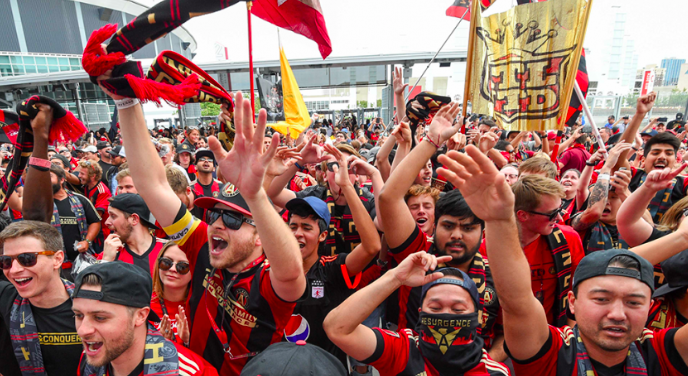 COPA90 announces expansion of its partnership with Soccer United Marketing
New York, NY – February 21, 2018 – COPA90, a global, multi-platform soccer media business specializing in creating fan-first video content, today announced an expansion of their unique content partnership with Soccer United Marketing (SUM), Major League Soccer's commercial arm.
"COPA90 continues to be a great business partner and we are proud of how this relationship has grown over the last two years," said Chris Schlosser, SVP, Media, SUM. "One of our objectives at SUM is to continue to create compelling content featuring players, Clubs and supporters. COPA90's unique skillset complements our existing infrastructure and helps us distribute content to a wider audience and to soccer fans all over the world."
Building upon an already successful partnership, COPA90 will become a preferred media partner of SUM as the two companies collaborate on new content formats, including bilingual content focused on the Mexican National Team, CONCACAF Champions League and Major League Soccer.
SUM and its commercial partners can now activate COPA90's award-winning branded content studio and will have the ability to seamlessly integrate its brands and athletes into soccer programs like Walk Talk Football.
"This is an unprecedented moment in time for soccer in the U.S. and Canada," said Tom Thirlwall, CEO of COPA90. "The growth of Major League Soccer has been absolutely astounding and COPA90 is firmly committed to creating great new content for soccer fans and ground-breaking commercial solutions for SUM partners."
In 2017, COPA90 worked with several SUM partners including adidas and Continental Tire.  In November, COPA90, the fastest growing media brand in global soccer, delivered 100 million worldwide views, an all-time high.
ABOUT COPA90
COPA90 is a soccer company with over 100 million views per month and is now regarded as the definitive youth media brand for soccer.
COPA90US, previously known as KICK, was rebranded as part of the rollout of a consistent global brand identity for COPA90 in August 2017.
The brand's influence is far-reaching. COPA90 hits and highlights include the recently launched 'Walk Talk Football' show – hosted by former MLS All-Star and US Men's National Team Player, Heath Pearce,  "Behind Enemy Lines," a mini-doc about the history and lore of Mexico's famed Estadio Azteca.
Mundial magazine called COPA90 "The voice of a generation."  COPA 90's FIFA and Chill interview format has also attracted the likes of David Beckham, Paul Pogba, Lil Yachty, and Chelsea Striker Michy Batshuayi.
COPA90's 'Saturdays Are Lit' is the highest-rating soccer show globally on Snapchat Discover with Bleacher Report.
In recent months, COPA90 has consolidated its position as a disrupter of the sports media landscape with a number of innovations. In 2016, it was the first football brand to build a Facebook Messenger chatbot for the UEFA European Championship and in July 2017 announced its new COPA90 LIVE series which is re-defining how a live soccer match should look and feel.
ABOUT SOCCER UNITED MARKETING
Over the past 16 years, Soccer United Marketing (SUM), the commercial arm of Major League Soccer, has become the preeminent commercial soccer enterprise in North America, overseeing the commercialization, marketing, promotion and operational execution of the region's most successful soccer entities. Currently, SUM holds the exclusive rights to Major League Soccer, the United States Soccer Federation, the Mexican National Team (for the United States market), and CONCACAF Properties (Gold Cup™ and CONCACAF Champions League).  In addition, SUM held the promotional and commercial rights to the highly successful 2016 Copa America Centenario.