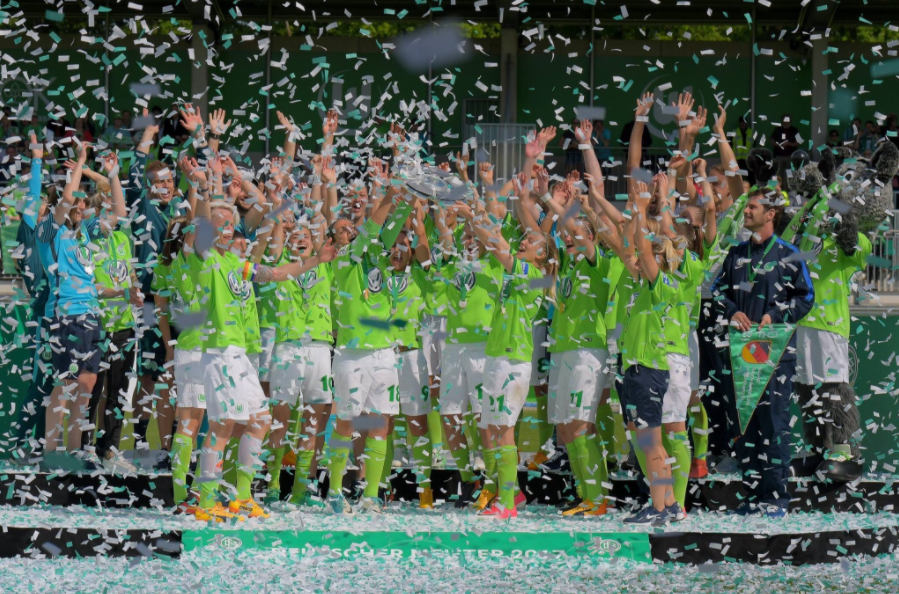 Despite A Domestic Double, Wolfsburg Women Kept Waiting
Winning the league is a huge accomplishment. Winning a domestic double is an even bigger one. So why did the Wolfsburg women's team have to pretend like theirs didn't happen?
Consistently one of the best women's teams in Germany, VfL Wolfsburg women nabbed the 2016/17 Frauen-Bundesliga title ahead of FC Bayern Munich Women, as well as their third-straight German Cup. Unfortunately, the men's team wasn't enjoying the same success. Just two days after the women raised their second trophy of the year, the men were to play the second leg of a relegation playoff in which they held a slim 1-0 lead.
Because of this, the women's hard-earned celebration — scheduled for that Sunday, one day before the men's second leg, at the Wolfsburg town hall — was cancelled. The women were not even told of this decision by the club; instead, they found out through the media.
Even worse, after the Wolfsburg men's team secured themselves a spot in next year's Bundesliga, the club announced a celebratory barbeque for doing essentially the bare minimum for the season. And the women — who had "watched both games together" to "still show[ ] support" according to German journalist Jasmina Schweimler — weren't invited.
As I expected. I can now confirm: there was no BBQ invite for @VfLWob_Frauen. Not official, not intern. Nothing.

— Jasmina Schweimler (@JasSchweimler) May 30, 2017
Fans decried the situation as horrendously unfair and quite sexist. So did some Wolfsburg players themselves such as Pernille Harder as well as Nilla Fischer, who argued that a men's team would never be made to push off a celebration on behalf of their women's team.
#Fischer: "It's unfortunate that we can't celebrate. For us and the fans. We are one club, but we are still two different teams."

— Jasmina Schweimler (@JasSchweimler) May 31, 2017
But interestingly, in contrast to other divides between men's and women's teams — like the Nott's County Ladies being cut to save money — such a huge gaffe from Wolfsburg seems to be the exception rather than the rule.
Says Schweimler, who covers the VfL Wolfsburg women for Wolfsburger Allgemeine Zeitung, "It's very rare that female players can make a living playing soccer, but in Wolfsburg it's possible — I'd even go as far and say it's the best [team] in Germany when it comes to women's football. I know that quite a few players don't rely on a second job anymore.
"The club is really helpful when it comes to education and finding jobs/internships, which I think is great. The club also provides cars for the players and has built a stadium (AOK Stadion) just for the women's team and youth teams not too long ago [in 2015]. And the club has launched a sport business campus too where players can study; Nadine Keßler studied there and right now Lara Dickenmann gets the chance to do her Master in General Management, and Vanessa Bernauer is studying there too."
But then how could this club so dedicated to its women's players lives on and off the field — a club whose former head coach, Ralf Kellermann, even stepped down to focus on his tasks as Sporting Director in order to "focus…on professionalizing women's football in Wolfsburg even further" — be so callous towards these women's achievements?
"I don't think the club really thought about the possible impact this would have," says Schweimler. "A possible relegation of the men's team would've affected everything, and the whole mood in Wolfsburg was tense and everybody was panicking."
Not only were Wolfsburg facing a possible first relegation from the Bundesliga, they had to battle it out against Eintracht Braunschweig — a local rivalry between two teams separated by only 33 kilometers. Such a "heated derby in relegation," Schweimler explains, "was all that they focused [on] and it got to them mentally.
"Perhaps," in this state of mind, "they underestimated the worth of their women's team and the anger and disappointment [their decision to postpone the celebration] would cause."
However, the idea of celebrating the women's the achievements in the face of the men's possible devastation does not excuse the fact that they could have been a part of the men's barbeque that followed.
"I thought that the club would organize something once the men are through, but I was disappointed that it didn't even involve the women's team when they actually did it," Schweimler admits.
"Let them get together and celebrate. Don't force them to subordinate to men. In 2017! Come on."
Instead, the women had to get together privately to celebrate on their own. Their official celebration is now scheduled for the beginning of September, exact date depending on the schedule for next year's Frauen-Bundesliga. But in some ways, despite the press release highlighting that "women's football has always had a huge value in Wolfsburg," the fall event is, in some ways, too little too late for some of the damage they've done to their otherwise stellar women's football reputation.
"The fans are mad. Of course they are," says Schweimler. "The club is aware of the fact that the relationship with the fans and general view by neutral viewers has suffered. They have to get people's trust back."
As for the players: "Imagine working hard for months, even years. Imagine winning trophies in the name of the club. Imagine being the most successful team in Wolfsburg — and then they make you feel unappreciated, just like that.
"But they are all professionals and will not let this affect their future work and relationship with the men's team. The club just needs to handle it better in future."