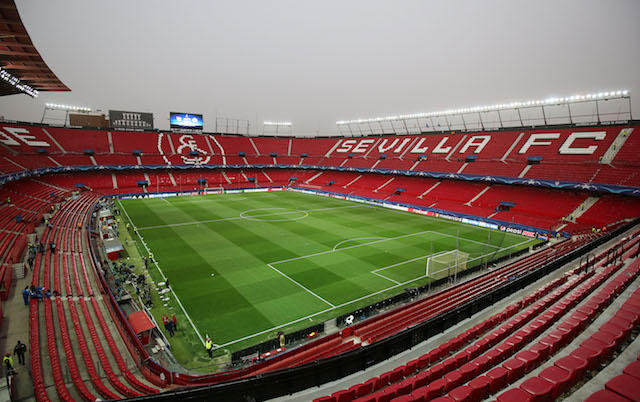 Instead of building new grounds from scratch, Spanish clubs are going for a more economical option
TV rights revenue is not as equitably distributed in La Liga as in the Premier League. Although Real Madrid, Barcelona and, to a lesser extent, Atlético do get huge amounts every season, the average income of all the other sides in the league is significantly lower. That makes the budget of the smaller teams relatively tight. Whereas Madrid and Barça plan massive reconstructions of their current grounds and Atlético and Athletic — also a financially strong club — have built new stadiums, the other clubs have to search for cheaper alternatives in order to keep their homes up to date.
Valencia: Mestalla
Valencia's Mestalla is currently the oldest ground in the Spanish First Division and has hosted more LaLiga games than any other stadium; they recently overtook Athletic's old San Mamés stadium. Ten years ago, the club had planned the construction of a new stadium — and despite construction work having began, ten years later it remains unfinished. As most of the other uncompleted architectonical projects — Gaudi's Sagrada Familia is probably one of the few exceptions — the New Mestalla is not visually appealing. It is just a big concrete structure that sits in one of the city's entrance and symbolises the decline, on and off the pitch, that the 2004 La Liga winners have experienced in the past decade.
Given that it seemed unlikely that the new stadium would be finished in the near future, Valencia decided to rejuvenate their current and historic home. With a large paint job and some tarps, they have managed to give the old Mestalla a new, fresher look.
This is how the stands looked before:
And this is how they look now:
They also worked on the stadium's facade:
Sevilla: Sánchez Pizjuán
In the summer of 2015, one year after Valencia had updated Mestalla, Sevilla did the same with their ground, the Ramón Sánchez Pizjuán.
Before:
After:
Villarreal: El Madrigal
Villarreal did not improve the interior of their ground, but they improved its exterior with a new yellow-lighted facade. They also changed the name to the Stadium of Ceramics in reference to their sponsors, several ceramics companies from the area.
Before:
After:
Mañana jueves, la tienda oficial 🛍 de Plaça Major estará cerrada y en su lugar se abrirá la del Estadio de la Cerámica (de 10.30 a 13.30h). pic.twitter.com/Nk5zG5aJAk

— Villarreal CF (@VillarrealCF) August 23, 2017
Betis: Benito Villamarín
Back at Seville, the city's other club has also recently updated their stadium. They painted the stands and also upgraded one of them, which required a major investment.
Málaga: La Rosaleda
As their stadium La Rosaleda turned 75 years old, Málaga painted their stands as well:
Levante: Ciutat de València
Levante, another club that gave a new look to its stadium's facade.
Before:
After:
¡Qué bonita está quedando nuestra casa! 😍 pic.twitter.com/olDthyFVmu

— Levante UD (@LevanteUD) August 20, 2017
Celta: Balaídos
Celta de Vigo gave a more modern look to their stadium, Balaídos, by adding a large infrastructure in the outer surface of one of the stands.
Before:
After: