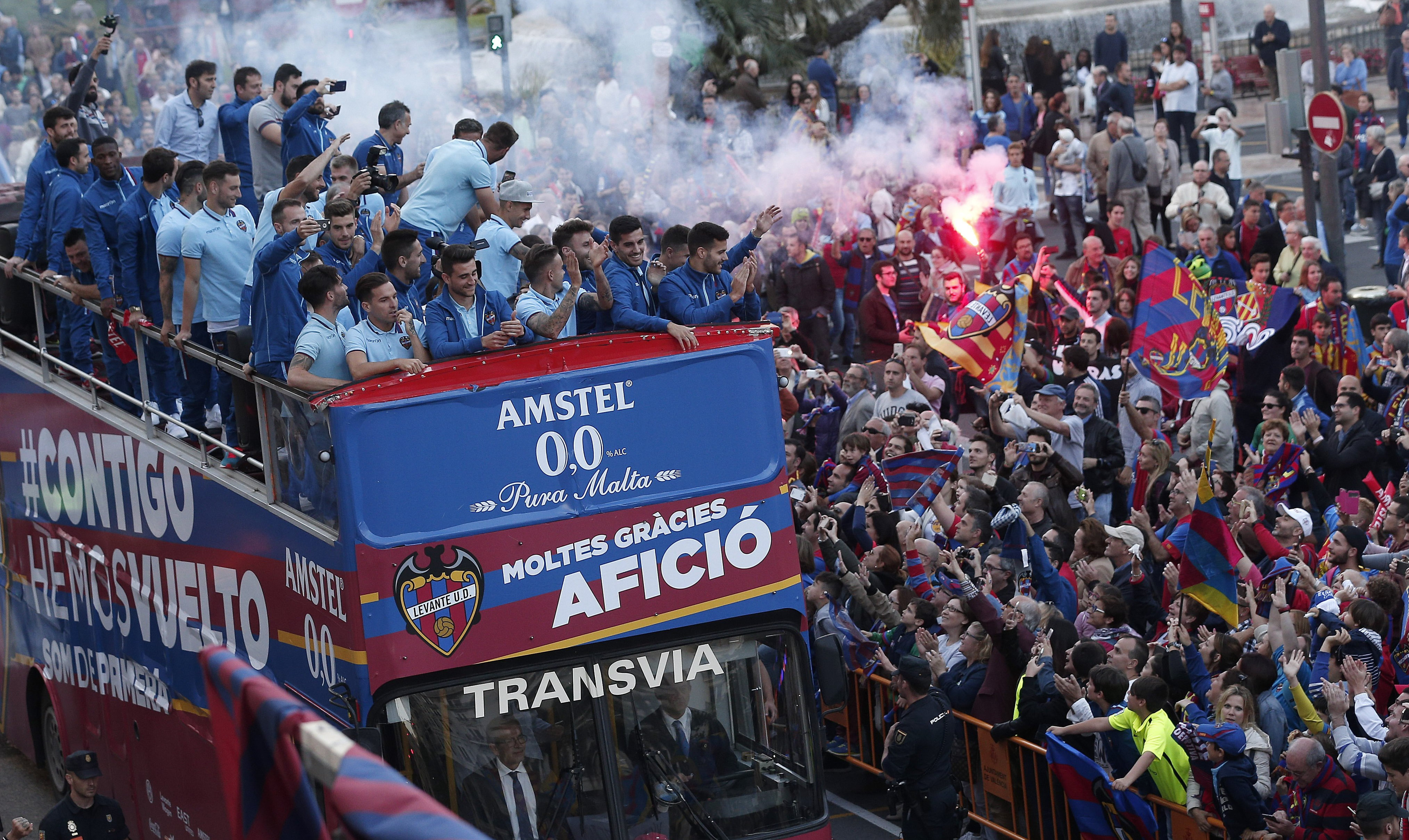 Although it is late June, there are still some Spanish promotion playoffs that are yet to be decided! But there is a team that has already known its fate since April: Levante Unión Deportiva.
It has been an immediate return

After a poor league campaign, Levante were relegated from the first division last season. It had been their best run in the top tier, as they had stayed up six years in a row. Many sides experience a serious decline following a relegation, and Levante supporters feared that this could happen to them. But the club rebuilt a strong squad, brought in a new manager and hotly pursued promotion from the very moment the new season started. They soon rose to the top of the table and were unstoppable; they had already certified their promotion in April! They ended up winning the league with a 14-point lead on second-place Girona.

Levante is not a city

Some people outside Spain believe that Levante is an actual town, but it is in fact the name of the region of East Spain that is by the Mediterranean Sea. Levante UD is based in Valencia and takes its name from the Playa de Levante (Levante Beach) of the city, where the club started playing. Their noisy neighbours are the historically more successful Valencia CF, a team supported by the vast majority of the people from the city. Levante are aware of their underdog status at every local derby and they are happy with it.

The club launched a season ticket campaign in 2010 which truly captured the essence of Levante: it was called 'How great is being small!" and it proudly included quotes such as "draws are like victories for us, and victories are like touching heaven" and "we celebrate promotions as if they were World Cup titles." Their campaign for next season is also worth mentioning: "If you attend the 19 La Liga home games that will be played at their stadium during the 2017/18 season, you will obtain a free season ticket for the following 2019/19 season."

Johan Cruyff played for them

In 1981, Levante made a signing that had a huge impact on the media: Johan Cruyff. The former FC Barcelona player had spent two years prior in the United States, where he played for Los Angeles Aztecs and Washington Diplomats. While defending Levante's colours — which are the same as Barcelona's — during a few months in the Second Division, Cruyff scored two goals in 10 matches. Then he moved back to Washington.

They once played European football

In 2011, Levante started their best first division campaign ever. After nine matches they got to the top of the table, sitting as leaders of La Liga for the first time in their history. They managed to stay in a European position throughout the whole season and ended up 6th. The following season, they made their European debut in the Europa League and reached the quarter finals.

Their mascot is a frog

The club nickname is 'the granotas ('the frogs,' as translated from the dialect spoken in Valencia, which is similar to Catalan). When they merged with another local club in the late 1930s, they started playing at a ground that was close to a river and therefore had many frogs around, hence the nickname.
Photo: MIGUEL ANGEL POLO/EPA/REX/Shutterstock