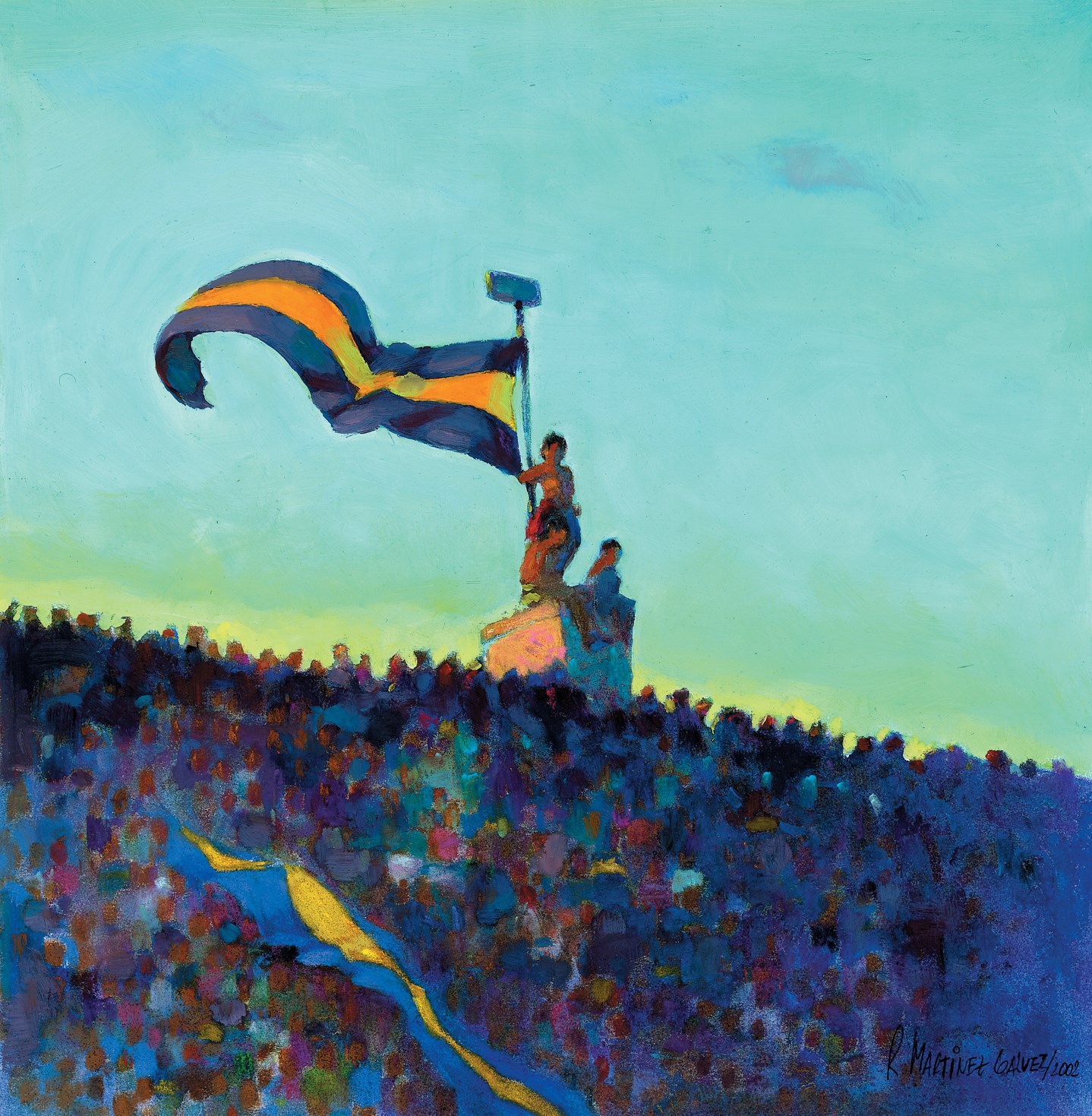 Argentinian football through the work of Ricardo Martínez Gálvez
Argentinian football is highly renowned for the passion of its fans, which often goes beyond the limits of rationality. And from the streets of the barrio de La Boca in Buenos Aires to the stands of Racing's ground El Cilindro, going to either a San Lorenzo game or a River title celebration, the artist Ricardo Martínez Gálvez has managed to captivate the essence of football in Argentina with these illustrations - which most of them come with brief yet beautiful captions.
A cigar, a beer, an occasional friend and a flag that hardly saves you from the cold of those interminable winter nights, in which the only thing that does not crystallize is the heart…
To him that goes everywhere; that handles rain, cold or hot weather; that takes care of the rags that he uses as a coat; that is always there, that never leaves; that comes to every single game, year after year; that makes of this game a party with a thousand colours and music; that cries, laughs, suffers, enjoys and reams; just like if a whole life was summed up in ninety minutes. Something that is as difficult and mysterious to be understood by someone else as it is natural to him. To him: to the supporter.
The clock stops. The goblins celebrate and the fairies dance. Many swear that they saw them that night at the Bombonera. Come and see! Diego scored. We all scored. It was not that long ago that you felt, but oh how much we miss you!
That instant. Unique and unrepeatable. Dreams that come true. He offers them his glory, becoming history, and winning a place in their hearts forever.
Afternoon falls in a game that dies without pain nor glory. An horizon of heads is cropped by the sky, while thousands of hearts pray for a goal that will never arrive.
Proud of their history and their colours, Sunday afternoon calls them together. They only know two things about each other: their passion for Diego and for their eternal Boca.
The neighborhoods of the country meet them. Pagan religion the one they inherited, one of rituals and bleachers. Brothers they became, brothers of the stadium they were named.
When I grow up I will be a football player. I am going to play in the First Division, you will see. I swear. And when I score… can you imagine? In the last minute. Oh how wonderful it will be! I will climb the fence and celebrate it with the fans. They will shout my name… You will see…
The colour of the sky and white and black. Cárdenas, Celtic and that epic centenary goal. Academy of football and love for the shirt. Sufferer, supporter, loyal. How much you suffered, how much! And there you are, standing. Defiant, proud, brave.
Agitated, exited, without having slept. Climbing those last steps that look as if they had been made for giants. The tunnel, the voices, the characters that look from a tale and the light… The light at the end, the shouting, the desire to see, to finally be part of the celebration. Those dreams are accomplished.
Like a red sun it flies towards the goal; it has a date with history. A dreamlike afternoon that you will never forget. The orange ball rests, docile, domesticated by your left foot.
How long to go? Finished it, cuervo! Hearts that explode into a thousand pieces and become one. One. A roar that is born in those two flags squashed in La Bombonera, flying through from that sky to the whole country. Tingling of torsos and colours. How can the heart resits such a big happiness without blowing up? A Sunday in red and white. And never as red and white as when you win at Boca's.
Subversive, euphoric and packed, the stand foresees a victory with its lights; with its flags it sings and prays that this night they do not get anything but glory.
Here and now! I am the strength, the challenge, the insolent chant that multiplies by thousands taking over the night. I am the passion, the happiness, the celebration of my people. Here by the wire, the bad ones do not matter. Here and now. River! I am River!
Sell your soul for a team. Hell of passion and fire. Independiente and its mystic. 'El Rojo' goes for another cup and its supporters can feel it.
The fence I climb. The policeman that chases me, look at him, how fat he is, how bad he looks. I do not care, I want to hug him. And tomorrow at school I will tell everyone. The won't believe it. 
How many kilometres! Happy, uncomfortable, wet… 'Hopefully the truck behaves and does not let us down. To how many grounds have you taken us: Córdoba, Mendoza, Rosario… There are still two hundred miles and it is so cold! 'Rulo, do you have a cigarette?'