Stories from the Terraces: End of Season Chaos!
The biggest stories this weekend emerged in the lower rungs of Europe's football leagues.  The promotion and relegation battles, European qualification and Cup finals made for some spectacular showings.  As usual the terraces boiled over to a fever pitch, reminding us of the importance of that connection between a club and its fans.
SV Austria Salzburg are a fan owned club established in 2005 following the original club was renamed to Redbull Salzburg.  This weekend, the Violet-Whites gained promotion to the Austrian second division.  As the referee blew the final whistle, the fans stormed the pitch, entranced in the joy of success for a team that is truly their own!
Austria Salzburg became champions of the Regionalliga West and was promoted to the second highest level of Austria. Big victory against modern football!
Ahead of their match against Verona on the weekend, Juventus supporters lit off 36 flares in commemoration of the 30th anniversary of the Heyesel Stadium disaster.  Check out our video with Juventus Ultras' tattoo artist Lele Bianchi to learn more about the legacy of this tragedy.
Juventini ricordano le vittime di Bruxelles
Italian fourth division side Taranto FC welcomed their team ahead of a playoff match against Renede with a glorious choreography.  The tradition of the Tifo emerges in Italy, and this display from the Italian lower divisions is a fitting example how this tradition is still alive and well today.
BRIVIDI Forza Taranto Basta Fabiana De Gennaro Nicola Carpignano Gianluca Sostegno Gianluca Mongelli Paola Raisi
FC United of Manchester had their first official friendly match in their new ground against Benfica this weekend.  The beautiful Broadhurst Park hosts around 5,000 people, and is truly an omage to fan owned football.  The East end was alight with chants, as a community found its home.
Avellino supporters put on a wonderful pyro show ahead of their playoff tie against Bologna on the weekend.  Depsite losing 1-0, the supporters showed that as a fan group, they are certainly ready for top side football.  As they head to Bologna next weekend, we will likely see the home supporters respond, with a wonderful display of their own.
Playoff #AvellinoBolognaUn inizio così metti i brividi. Una curva così merita altri palcoscenici. Una tifoseria così è da sogno….#AvellinoBologna #playoff #finoallafine #crediamoci
FK Sarajevo celebrated winning the Bosnian championship with a another one of their epic pyro shows.  We have become quite familiar with the passion and support displayed on their terraces throughout the last couple of years, and this was no different.
FK Sarajevo vs.Sloboda Tuzla [30.05.2015]78.Minute, Tor zum 3:1 Sieg, Sarajevo damit bosnischer Meister 2014/2015.
In the Bulgarian Cup Final between Levski Sofia and Chernomore Varna was played on a neutral ground in Burgas.  The game itself was a cracker, with Cherno winning in the 118th minute of extra time. Throughout the match, both sets of supporters put on some great choreographies and pyro displays.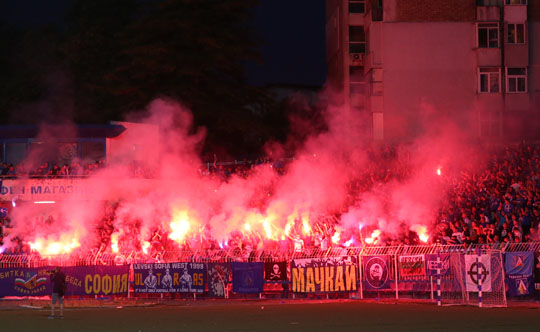 Dortmund's Yellow Wall is known far and wide as the most impressive supporters group in Europe today.  Their displays and commitment to supporting the club are legendary.  This weekend's match in the German Cup Final against Wolfsburg was no different. Just check out the colour in this display…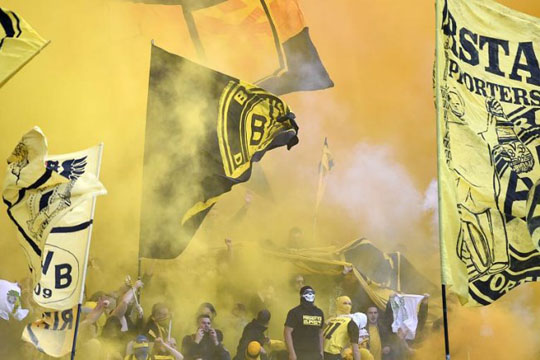 Banik Ostava played their final batch in their final match in the famous Bazaly stadium against Dukla Praha on the weekend.  The supporters said goodbye to the ground with a series of flares, complex Tifos, and a pitch invasion.  The Bazaly stadium was built in 1959.  Next year they will be moving to the new City stadium, built for this year's Under-21 euros.