Stories From the Terraces: Fan-Owned Glory & Cup Final Chaos
The main leagues in Europe are all wrapped up, opening up space for some of the smaller, and more interesting terraces from around the world. From politically charged cup finals, to non-league glory.
The Ukrainian Cup Final between Dynamo Kiev and Shaktar Donetsk was always going to be a heated fixture. The two are historic national rivals, and with conflict in Donetsk raging on, this match has become a small metaphor for ongoing tensions in the region. As Dynamo Kiev defeated Shaktar, the supporters went wild, unleashing a fury of pyro, invading the pitch, and singing a string of pro Ukranian nationalist chants.
Despite Legia Warsaw finishing 1 point off top spot in the Polish Ekstraklasa behind Lech Poznan, their supporters have been amongst the best in world football. On their final match day of the season the Legia Ultras created this spectacular Choreography, which reflects the religious fervor of Polish supporters. This is just another example of how Tifos are an expression of the local culture that a club is meant to represent.
The Swiss Cup final between Basel and Sion was an absolute spectacle from the perspective of the stands. Despite the larger contingent of supporters in Basel's home ground both sets of fans gave an absolutely impressive showing. In the end Sion won the match 3-0, preventing Basel from pulling off the double.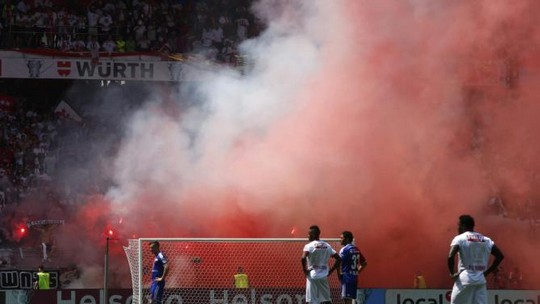 The fan-owned football movement has grown remarkably in recent years. Clubs across the world are popping up, creating alternative ownership models that give people their ball back. In Romania, Politehnica Timosoara was created to be just that. Built in 2012 after their club was went bankrupt and moved to another city, Poli Timosoara has just reached promotion to the Romanian 3rd division.  The incredible support displayed by the Viola faithful is representative of the kind of environment one can find at fan-owned grounds.