Stories from the Terraces: Fans Say Emotional Farewell To Klopp & Xavi
Well, 2014/15 is coming to a close.  On the terraces, this is often the most emotional time of a season. The time in which fans must accept promotion or relegation, say goodbye to a legendary player, celebrate an anniversary, and revel in triumph.  All in all, these expressions are all derived from one thing; the undying passion for your club.  Here are this week's stories from the terraces…
Genoa supporters steal the show again on Italy's terraces.  The Griffone faithful have always had a reputation for putting on a show, and their last home game of the season was no exception.  Before taking on Inter, the supporters in The Luigi de Ferraris' Curva Nord put on a show for the ages to celebrate the 20th anniversary of the Figgi do Zenna; Genoa's supporters group.
There aren't many managers who have connected with their own supporters like Jurgen Klopp.  This weekend in the fans in Dortmund's Yellow Wall gave him a send off that will live on in football lore.  His time at the club saw Borussia Dortmund's most successful run in history.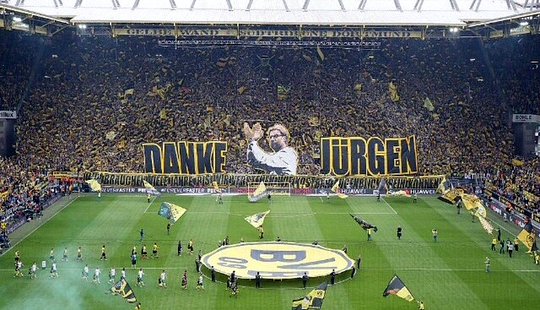 HNK Rijeka are known throughout the world for having one of the most unique stadiums in football.  Last night the supporters of the Rijeka Whites said goodbye to the famed Kantrida stadium.  Rijeka's Armada will have the honor of watching 1 final ceremonial match in the ground before construction the new ground begins.

Fairytale football club Real Oviedo played the first leg of the Spanish second division championships against Cadiz. The match did not take place without incidents, and supporters and police clashed outside the grounds and around the team busses.  Despite the tension outside the stadium, the match went on without incidents, and the Real Oviedo faithful put on a truly glorious choreography.  There is no telling what will happen as the too play again in the second leg.
Despite tensions between fans and the FA, Sweden is quickly rising in the ranks as the best country to see a football match.  Away supporters are allowed to attend games, authorities have reached healthy compromises on the use of pyro, and the passion of the atmosphere is unparalleled.  This weekends fixture between Djurgarden and AIK was no exception.  Both sets of supporters groups unleashed epic choreographies, punctuated by two terrace-wide pyro shows.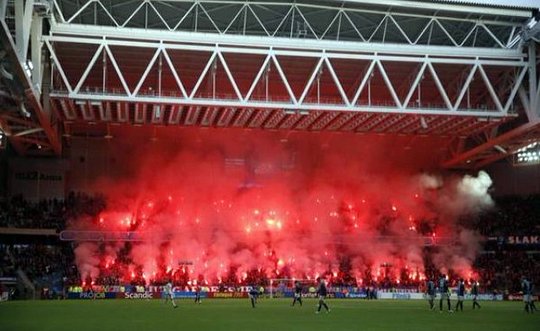 Last week Legia Warsaw's supporters celebrated the league title with a skull themed choreography that left supporters across Europe slack-jawed. Jagiellonia Bialystok celebrated their 95th anniversary in their match against Wisla Krakow. The fans in Bialystok City Stadium covered the stadiums in rings of yellow and red, as the ultras put on two choreographies.  One commemorating the anniversary of the club, and another dedicated to the ultras themselves.
The Derby Della Capitale is always an epic derby.  Rome's Curva Sud, and Lazio's Curva Nord both feel a great amount of pressure to outdo their rivals with some unbelievable choreographies in the stands.   Last night Lazio's supporters did just that as they displayed the team's symbolic eagle rising from flames, like a phoenix rising from the ashes.  Atypically, the Roma Ultras did not put on a choreography in a protest against club president James Pallotta.