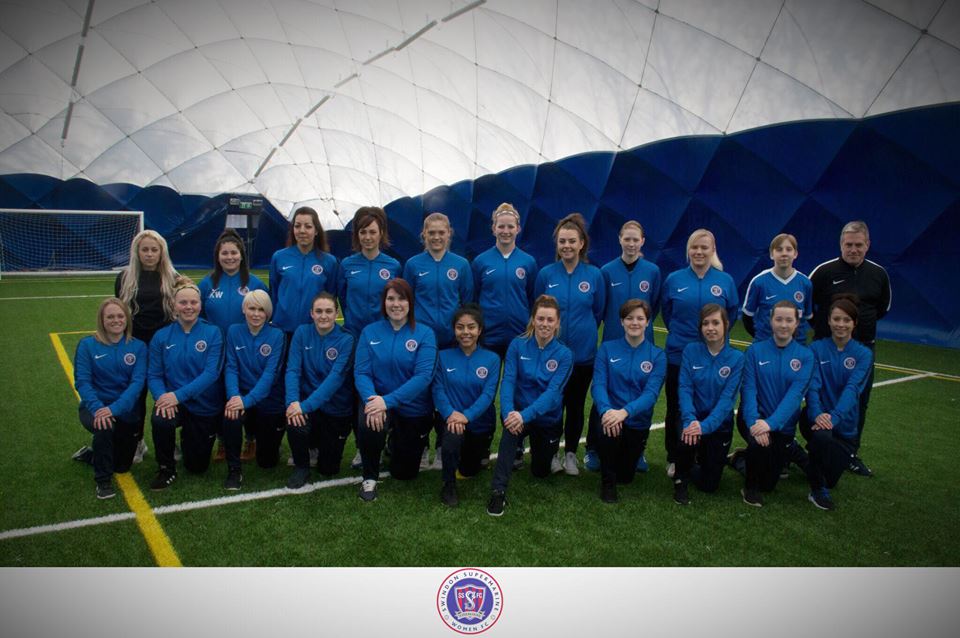 Why Swindon Supermarine Women Will Make Their Mark on Women's Football
When the Notts County Ladies folded just a few weeks back, it raised a lot of questions about the status and priority of women's football in England.
But despite the situation being a huge wake-up call for clubs, players, and fans alike, it luckily seems like it's not necessarily the norm — even for women's clubs not connected to wealthy Premier League sides like Arsenal or Manchester City. In fact, says Chloe Leadbeater, "This makes me realize how lucky I am [to be] with the club I'm at."
Leadbeater is a striker for the Swindon Supermarine Women, the brand new women's affiliate of non-league, semi-pro men's side Swindon Supermarine. And unlike a lot of clubs, they share more than just the same name; the men's and women's club both claim the Superdome training facility and Webb's Wood Stadium as their home.
"I don't think I've really been at a club before that has had what Supermarine [Women] do," says Leadbeater, who has trained with the Swindon Spitfires and played with the Swindon Town Development. "We are quite lucky to train at the Swindome, which wasn't even built when I was first a supporter of the Swindon Supermarine [men].
"The club recently invested in that [in 2015] and it is an amazing facility. Add that to the fact that we play on the same pitch as the men…that makes you feel part of the club."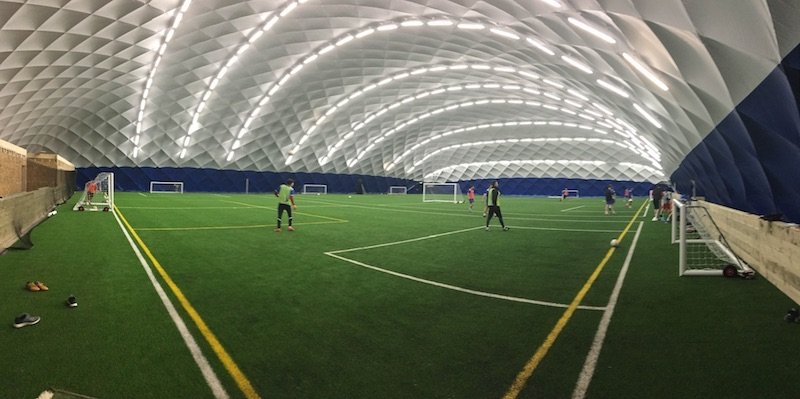 Contrast this partnership with what happened to the West Ham Ladies, who reportedly weren't allowed access to the West Ham training grounds and therefore had to train by the side of the road. Women's clubs having both the support of — not just monetary support, but also being promoted on the website (which the Supermarine do) and being promoted in men's match programmes (as the club did for an old iteration of the women's club that folded a few years back) — and the resources of their men's counterparts boost the female players' morale, a good relationship between the clubs, as well as quality of play.
And all this support is coming from a men's team that isn't in any sense wealthy in their own right; in fact, the Swindon Supermarine were formed in 1992 as a merger between two financially wrought clubs, Supermarine FC and Swindon Athletic FC, and had problems of their own back in 2010.
What therefore helps safeguard the Swindon Ladies against facing a similar fate to the Notts County Ladies is that they are a pay-to-play team rather than salaried players.
To Leadbeater, though, this is no problem; it's worth it both because of the equal opportunity to such incredible resources they're given as well as, of course, because "[she] love[s] to play football and to able to be part of this team."
Plus, pay-to-play hopefully won't always be the case. "It all depends on how we progress through the leagues, attendances and various other factors," Leadbeater says. "Hopefully that will happen in the next few years.
"We are only in our first season."
But that hasn't stopped the team from already being "quite ambitious."
"We're just gone through our first season and did [well]," Leadbeater says. "However we are looking to get out of the league next time."
Off the field, too, Leadbeater hopes to improve attendance at the matches as well as the club's social media presence.
All in all, says Leadbeater, "I feel like [we] could be a team to watch out for."
Next season can't come fast enough.