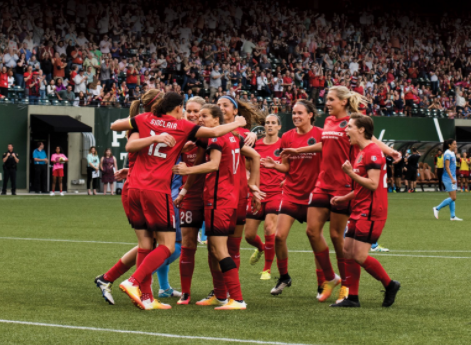 "Under the Lights and In the Dark" finally shows the unseen side of women's soccer
"At an early age, they found the game and held on, driven neither by money nor fame — only the desire to be great."
There is no cookie-cutter, tried-and-true way of making it as a professional women's soccer player. And there is no promise of an easy career or life once you have.
Yet there are still women all around the world who want nothing more than to take the field for a club or national team and who will do anything they can to get there — no matter the circumstances both from which they've come and in which they end up finding themselves. Author, journalist, and creative writing teacher Gwendolyn Oxenham's new book "Under the Lights and In the Dark: Untold Stories of Women's Soccer" details the lengths to which now-professionals have gone to achieve their dream, from selling bananas to afford a pair of boots to suffering through harsh Russian winters with harsher Russian coaches.
Oxenham herself was a soccer player, having had dreams while playing at Duke University of being better than Mia Hamm — dreams which, she laughs, "didn't work out for me." Besides her insistence that she "peaked at 16," there were no options for professional women's soccer at the time she graduated.
"I wasn't ready to be done, but the women's pro league [Women's Professional Soccer] had folded," Oxenham says. "So I went to grad school and found a new life."
But a little while later, she received an email about a club in Brazil — Santos, Neymar's boyhood club and the most successful club in the Brasileirão — that was looking for an "American goalscorer." It was her chance to live out her dream of being a professional women's soccer player, and so she took it.
For Oxenham, that dream took the form of one "crazy summer" during which she and her teammates hitchhiked to practice — the scene with which Oxenham opens the book, in fact — as well as wore extra-large hand-me-downs from the men's team, played in front of no spectators, occasionally shooed a horse off the field, and slept six to a room.
But how did that dream manifest for others?
Oxenham returned to the United States that fall with not only her own story to tell but also with that desire to find out what other women's stories were. And so, determined, she set off on her "scavenger hunt slash wild goose chase."
"I heard Yael Averbuch [current midfielder for FC Kansas City] had played in Russia, and had heard that she had a crazy time, so I called her," Oxenham begins. "And then through her, I heard about another player…
"It's like a game of telephone, where someone has a friend who has a friend who has a friend — and then you're waiting 6 months to see if you can even connect with them."
Like Averbuch, some Oxenham knew she wanted to speak to, but unlike Averbuch they weren't always easy to track down — for example, Cameroon striker Gaëlle Enganamouit — especially for a then-pregnant Oxenham who couldn't travel. But in those cases, it was just that much more rewarding to "actually make contact and get to dive in."
For players who weren't as altogether unknown, such as Brazil's Marta or the Portland Thorns' and Denmark's Nadia Nadim, she would try to dig even deeper into stories that may have already surfaced somewhat; Nadim's rise to stardom in Portland after fleeing the Taliban as a child, for example, becomes a 20-page in-depth look at her growth from beginning to play in a refugee camp with kids who never had before, to being invited onto a local girls' team and having to buy secondhand boots that looked 80 years old, to making the Denmark national team and beyond.
Other times yet, she continues, "I just knew that I had never heard an in-depth story about a Nigerian national team player."
Truly just looking at the roster on the Wikipedia page led her to see one player who had played in the US: Courtney Dyke. And as it turned out, Courtney's brother Bright had played at Notre Dame with Oxenham's husband. They made contact, Courtney connected Oxenham to Alinco — Josephine Chukwunonye, a Nigerian player whose carved for herself a professional football-playing future, including a stint on the Washington Spirit, in a country where futures are "hard to come by."
Oxenham also attended the She Believes Cup in 2016 to try and carve out time with the French, German, and English squad. "But that was just one weekend, 15 minutes after a game — you don't get the same level of depth."
And she wanted to dive as deeply as possible. Because the women's game still doesn't receive the same coverage as the men's game — "even though it seems, in the US, like it's blown up so much," says Oxenham — she was "grateful" to give them a chance to tell their stories.
"I just want those stories out there," she says, "even though it's a really difficult process to make people care."
Reading each chapter, that seems almost impossible; it might still "just" be women's soccer in the eyes of much of the world, but these players' adventures and hardships are altogether eye-opening, shocking, heartwarming, and captivating. There is Dani Foxhoven's stint at FC Energiya Voronezh in Russia, which is almost definitely run by the Russian mafia, and after which she had come home testing positive for steroids she had consented to be given; there are those players who tried to "Play Away the Gay" after signing for ultra-Christian teams in the U.S. where, even in 2017, homosexuality could get you kicked off; and there is Allie Long, the "gringa" who trained in underground futsal leagues in New York City so she could finally have her shot at the U.S. Women's National Team.
Oxenham herself is particularly fond of two chapters. One is of Becca Mushrow, who ended up representing England at the Homeless World Cup after being taken under the wing of ex-Liverpool and current Arsenal midfielder Fara Williams.
Williams herself had been homeless, something Oxenham had read briefly about during the 2015 Women's World Cup, and after some digging she discovered the work Williams does with the Homeless FA.
"How much Fara changed [Mushrow's] life, and how much she looked up to Fara, and how much she's pulled herself into a new place thanks to Fara — it's incredible that she can be a 'half-famous star' and still want to devote her time to all these girls who need her example," Oxenham says.
The other of her favorites is one close to her heart, as a former player with a child herself: "The Comeback Moms."
"Hearing of the mothers have to face, and the doubt that coaches and teams have, and the players who were cut and didn't have a team because they were pregnant — that was shocking to me," Oxenham explains. "And then watching their incredible rise, watching the way that their career shot straight up after a baby was so cool and crazy."
But child or no child, from Russia to the U.S. to Africa and back — no matter where these players were from or where they went — Oxenham found one common theme underlying what each player shared: "the lengths women's players are willing to go to play the game they love."
"It doesn't matter if you don't pay them, or if they have to go to Siberia, or if they're going to play for a coach who says they'd make a better prostitute than soccer player [as they're willing to do it because they love the game.
"That, to me, is both heartbreaking and inspiring."
You can find Under the Lights and In the Dark now in the U.K. and starting in September in the United States.