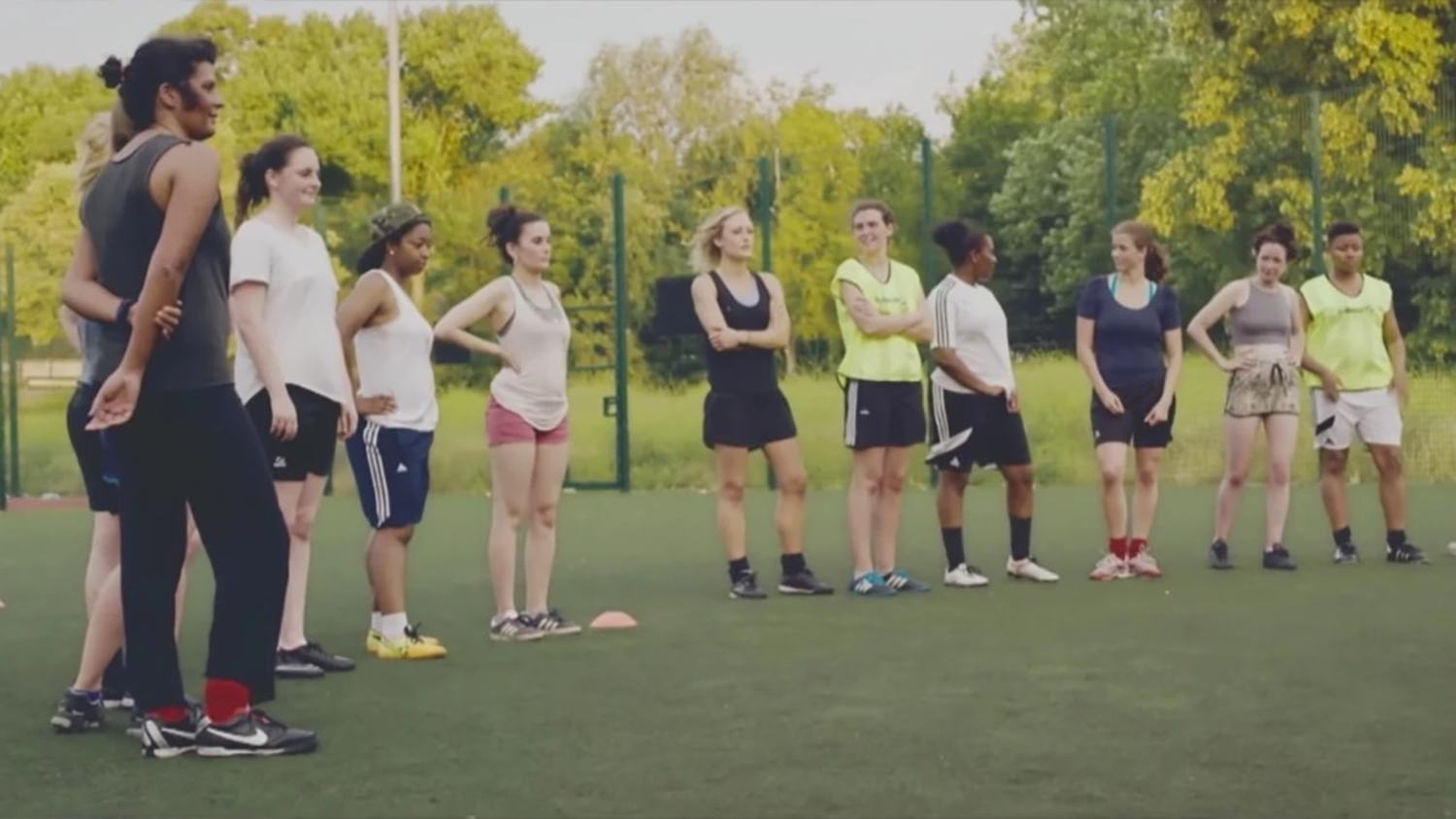 Sponsored by

Women's Street Football - Wednesday Night Warriors | Fan Film Fund
In London, beyond the lights of major stadiums and competitive Sunday league games, the city's parks play home to some inspiring stories of people who see a deeper meaning within the beautiful game.  Football Beyond Borders is one example of a group of young people who embody the spirit of empowerment and fair play that the game can teach.
Established in 2009 by a group of university students, the organization has been running community projects and training sessions for underprivileged youth around the world and within the UK. In recent years they have also developed a Women's football project – the FBB Warriors – which offers free-of-charge football training sessions to get more women playing football. The sessions are women-only, open to all ages and abilities and they also support young female coaches seeking to make their way in professional coaching.
We sat down with the Football Beyond Border's Head of Communications, and FBB Warriors coach Tom Perez, to find out more about the project, and the importance of empowering women through football:
When did FBB first begin?
FBB started as a student society at SOAS.  The football team wanted to change from the traditional model of football tours where you go abroad and just have a football holiday in Amsterdam or Prague.  Rather we wanted to go to countries where certain cultures had been misrepresented and where there were tensions between those cultures and the west.  This way football could be used as a tool for cultural diplomacy, showing that once you strip away all the divisions, we are all on a level playing field.  From there, things began to take on a more local focus after the 2011 London riots.
We realized that in our own society, underprivileged youth had increasingly fewer opportunities due to government funding cuts and to the closing down of youth centres and sports facilities.  So we thought that we could use football not only as a tool for cultural exchange, but also for combating inequality and discrimination.  We began by bringing together kids from different post-codes in south London by providing them with a free and neutral space to play football, as well as football coaching and informal mentoring. Since then, we have developed this model by adding an educational element to our projects, becoming a registered charity in 2014 and extending our work to some of the toughest schools in London.
When did you decide to start a project to empower women?
The Women's football project actually came from the fact that we were working as an organization combating inequality through football, and we realized that women were often the biggest victims of this.  We decided that we wanted to start a women's football session, and had the fortune of meeting a young women's footballer and aspiring coach named JJ.  So we offered her the opportunity to set up a session and offered to support her in getting her coaching badges.  It started with just 4 or 5 friends of ours who wanted to give football a try, back in December 2013, and it has grown incredibly from there.  It went from a few women playing in a basketball hall at a youth center, to about 30 women showing up every week and playing on a large astro-turf!
The great thing is that it is more than just a football team – it's a community. There are women of all different ability ranges who support each other and learn together without being overly competitive. That's what I think people enjoy the most about it.
How have you seen the game inspire them?
The most amazing thing has been seeing women who had never played the game before become really passionate about football.  Initially we thought it would just be a hobby, or a way to get fit.   But now I see them wanting to play matches on a regular basis, they want to understand the positions on the pitch… They have really become footballers, rather than people who turn up to a football session.
An story that stuck with you?
What has been most exciting to me is how it has brought together women from different communities. So initially it was just women we knew from university or work, and now it is bringing together a diverse range of people from the local community.  Most notably a young girl called Michaela, who is only 10!  One day she just turned up to Larkhall park in Stockwell, where we play every Wednesday.  Her mum walks around there every Wednesday and she joins in with a football.