El Escorpion is Colombia's leading football mag. With plans to expand in Mexico and the US, El Escorpion offers a unique insight into football culture across the Americas.
The Collective is a curated community that brings together the people defining the future of football fan culture; a handpicked group of publishers, artists and organisations who are our belief that football is more than a game and has the power to unite people like nothing else does.
In keeping with our Mexican theme this week, we turn our attention to the man of the moment for both club and country, Javier "Chicharito" Hernandez and the origins of his diminutive nickname. The Little Pea is not only spearheading Mexico's perfect start to World Cup Qualification, he's also single-handedly driving the growth of the Bundesliga in the countries with the two largest Spanish-speaking populations: Mexico and US.
In doing so, we welcome our newest Collective Member, El Escorpión. Hailing from Colombia, El Escorpión are due to launch Mexico and US editions of their eye-grabbing magazine later this year. Their conquest of the Americas couldn't be more timely as the two continents celebrate the 100th anniversary of the world's oldest international tournament.
THE GRANDFATHER: TOMÁS BALCÁZAR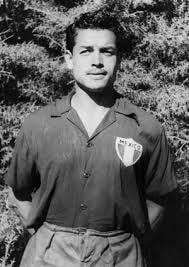 The original Chícharo—Spanish for "pea", a nickname he earned because of his round green eyes—was a versatile and charismatic attacking midfielder who played for Tecos, Puebla, Morelia between 1981 and 1999, winning three national championships. He was a member of the Mexican national team that hosted the 1986 World Cup and reached the quarterfinals although he didn't have played a single minute. Before 2010 World Cup, Hernández Gutiérrez made the news for quitting his job as Chivas' reserves coach after the club denied him a licence to accompany his son to South Africa. "Work is secondary", said Chícharo at that time.
THE FATHER: JAVIER HERNÁNDEZ GUTIÉRREZ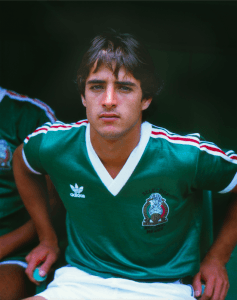 The father of Chicharito's mother played for Chivas Guadalajara, mostly known as Chivas, between 1948 and 1958, scoring over 50 goals. He wasn't a prolific striker but got recognition for his powerful headers. Balcázar played for México in 1954 Switzerland World Cup and scored a goal against France, a feat his grandson emulated in 2010 when México beat Les Blues 2-0 in the group stage. After retiring as a player, Balcázar joined the coaching staff of the Chivas team that would get known as El campeonísimo after winning seven league titles in nine years and many other trophies.
CHICHARITO'S TIME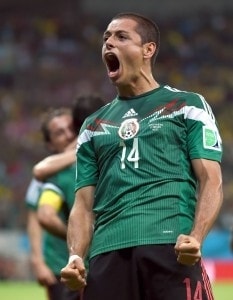 At 27, Chicharito is leaving up to the hype of his early days in Chivas. The striker found redemption with Bayer Leverkusen after being dumped by Manchester United and bullied for his permanent stay on Real Madrid's bench for the 2014-2015 season. It's in the Bundesliga team where CH7 has emerged as a leader and attacking reference with his first 20 plus goals season in Europe. His current form is good news for his national team heading into Copa América Centenario and the qualifiers for Russia 2018 World Cup. A continental trophy will give Chicharito's the main throne in the Mexican soccer pantheon, one tier above Hugo Sánchez, Cuauhtémoc Blanco and Antonio "Tota" Carvajal.
Photo Credit: Photo by Guo Yong/REX/Shutterstock (3861797ab) — Javier Hernandez of Mexico celebrates scoring, Croatia v Mexico, 2014 FIFA World Cup football match, Group A, Arena Pernambuco, Recife, Brazil – 23 Jun 2014