Football Channel Asia is the international edition of 'Football Channel,' Japan's leading website for football analysis and insight. They strive to bring a wide variety of view points to their audience.
The Collective is a curated community that brings together the people defining the future of football fan culture; a handpicked group of publishers, artists and organisations who are our belief that football is more than a game and has the power to unite people like nothing else does.
Hot on the heels of the Nadeshiko's second consecutive World Cup final appearance another national team kick-off their World Cup campaign on Thursday, as Japan's beach soccer representatives take on hosts Portugal in Espinho.
Head coach Marcelo Mendes is hopeful that his team can capitalize on the positivity that the nation's female players have created around the traditionally less popular variations of the beautiful game, and feels that beach soccer has the potential to build a more substantial following.
"You don't need socks or shoes and you play on the beach so there's a very nice atmosphere," he told me before the squad left Tokyo. "You can train, you can play, the kids can enjoy after swimming, and to watch beach soccer you will see many spectacular skills during the game so it's completely different.
"The game always must have a winner, so if the three periods finish tied you have extra time and then penalty kicks. It's a very exciting game, different from futsal and football."
The Brazilian has coached all over the world – including national teams in Europe (Portugal), South America (Uruguay), North America (USA), Africa (South Africa), and Asia (UAE) – and brings vast experience to a set-up that the Japan Football Association (JFA) is taking very seriously.
While Mendes is delighted with the backing from his association, he is targeting more interest from the media, which thus far has not paid much attention to the niche sport.
"We have good support from the JFA but we don't have huge support from the media," he said. "For example, for me it's a shame to have a [World Cup] qualifier and not have one game [broadcast] live in Japan, so how will people know what we are doing?"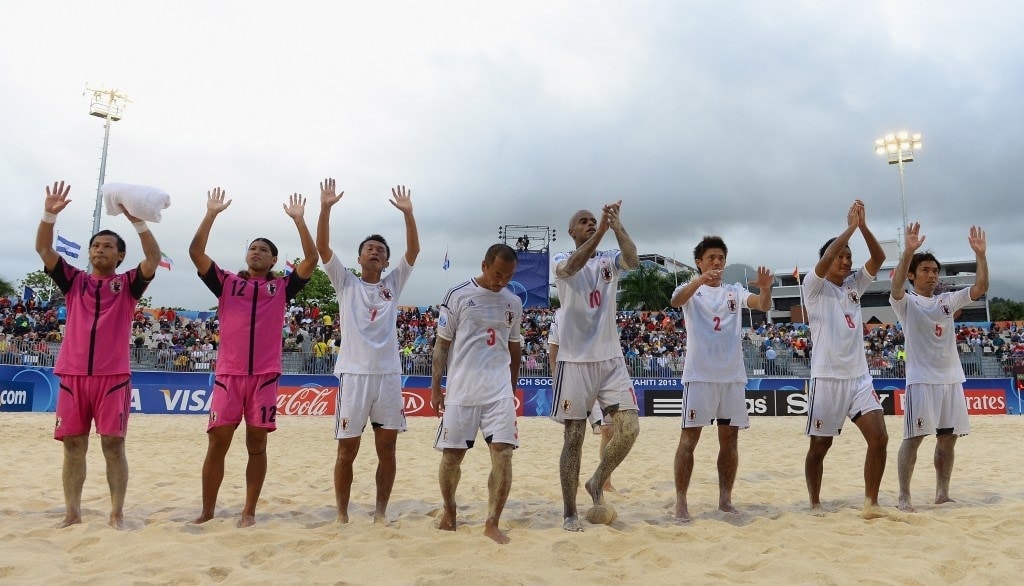 One way to remedy that – as the Nadeshiko's rise to prominence has so clearly demonstrated – is by being successful on the pitch. Japan lost narrowly to Brazil in the quarter-finals at the last World Cup in Taihiti in 2013, and this time around Mendes is aiming to better that achievement.
"I think we are at a level now where we can expect to go to the quarter-finals, and I think that we can do something more but I don't like to plan too far ahead because I don't want to pass this message to the players," he said.
Despite his best efforts to shield his team from any pressure, those taking to the field know the potential they have.
"I'm very happy that we have expectations on us, and I also have a lot of confidence," star player Ozu Moreira said.
"Our technical level is high. We're very strong at playing when close together. When we're further apart we sometimes struggle a little, but the occasions when two or three of us are close together we are very good and create many goals that way.
"First of all we are focused on the first game against Portugal, and if we can win that then you never know what it could lead to."
Portugal and Brazil (where Ozu was born) both courted the 29-year-old for their national teams, but the Japanophile knew there was only ever one country he wished to represent.
"For me, I'm Japanese," he said. "If, on the other hand, I were to go to Brazil and wear the uniform it wouldn't have any meaning for me. I wanted to become Japanese, I wanted to represent Japan and play at the World Cup."
Now he has the chance to do that for the second time, and, like his coach,he is looking to make headlines in the opening game against the Portuguese.
"Portugal will have a lot of expectation on them in the first match and there will be many supporters in the stadium," he said. "For me that is actually a good thing. Of course there is the pressure of being the away team, but if we are able to beat Portugal then all of a sudden it will become big news. That is something we are all conscious of and we want to create that big news."
Marcelo agrees.
"[Portugal] will be under huge pressure – huge pressure. Stadium packed, media and family around, so I think this can be good for us. If we know how to convert this atmosphere for us we can have some advantage."
However, while he has confidence in his players, the 45-year-old knows that sometimes their focus can waver.
"Some players have to concentrate more, [especially] when we are winning games," he said when asked to identify an area for improvement. "Sometimes we play a brilliant first half and then we decrease the performance and after we play better again. Against Brazil if you do that they will kill you. Against Russia they will kill you. You have to have consistency of performance."
Indeed, consistency – both on and off the pitch – has been key for the Nadeshiko, and if their beach soccer compatriots can achieve anywhere near that level of success then they, too, may soon be riding a wave of popularity.