Football Channel Asia is the international edition of 'Football Channel,' Japan's leading website for football analysis and insight. They strive to bring a wide variety of view points to their audience.
The Collective is a curated community that brings together the people defining the future of football fan culture; a handpicked group of publishers, artists and organisations who are our belief that football is more than a game and has the power to unite people like nothing else does.
For the last five seasons, matches between Kashima Antlers and Vegalta Sendai have represented not only two of the J.League's most dedicated hometown fan bases, but also two cities which have stood together in the face of incomprehensible tragedy. Now, over five years removed from the March 11, 2011 earthquake and tsunami, the clubs are amongst the many examples of how Japanese football has become deeply entwined with local communities.
When the 2011 J.League Division 1 schedule was released, the April 10 match between Kashima Antlers and Vegalta Sendai held little significance. Antlers, whose run of three straight league titles was broken by Nagoya Grampus in 2010, had recently won the Emperor's Cup and were preparing to contest the 2011 AFC Champions League. Vegalta, on the other hand, had successfully navigated to a 14th-place finish in their return to the top flight and were simply looking to improve on their record.
That all changed on March 11, when a devastating earthquake and tsunami struck the Tohoku region of northern Japan and reached as far south as Ibaraki Prefecture, where Antlers have established themselves as the country's most successful club. The J.League, which had opened its season less than one week earlier, was forced to postpone all competitions for over a month.
Both Vegalta and Antlers were deeply affected, facing not only the sorrow of mourning fans and supporters who lost their lives in the disaster but the immediate concern of stadiums which sustained damage from the quake. And to J.League fans across the country hungry for a sense of togetherness in the aftermath, these clubs became symbols of hope for recovery in the region.
Players such as Antlers captain Mitsuo Ogasawara, himself a native of tsunami-affected Iwate Prefecture, embodied that hope, immediately rushing to volunteer in relief efforts, participating in charity auctions, and rallying fellow teammates to join in the cause. A hastily-arranged charity match between the Samurai Blue, Japan's national team, and a J.League All Star side raised nearly $2 million for reconstruction.
Once league play resumed in late April, fans from clubs across the country displayed messages in support of Sendai, Ibaraki, and Eastern Japan. Vegalta Sendai, playing at Kawasaki Frontale, fought from behind in an emotional 2-1 victory that became part of a stunning 12-match unbeaten streak to start the season.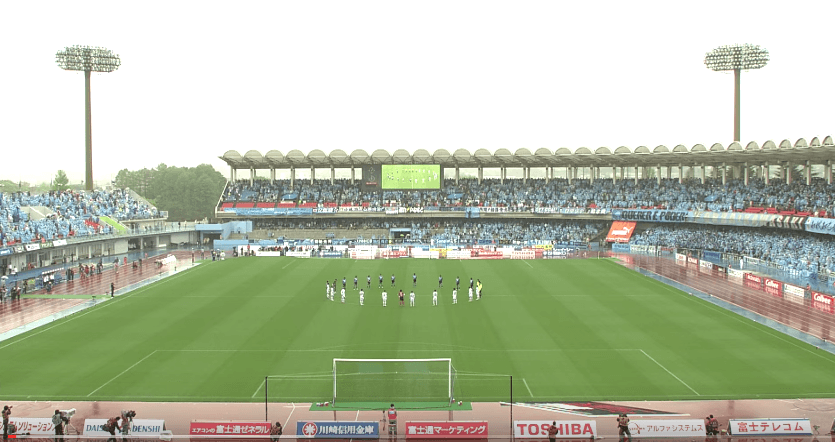 While Vegalta were soon able to return to Yurtec, earthquake-related damages to Kashima Stadium delayed Antlers' own homecoming. Rather than force their opponents to play their scheduled May 21 match at a neutral ground, rivals Urawa Reds instead agreed to swap home and away fixtures, earning a rare display of gratitude from Infight, Antlers' notoriously boisterous supporter group. The moment of respect between rival clubs embodied a truth of which long-time followers of the J.League are well aware: fans of the league are, when push comes to shove, one big community rather than dozens of scattered tribes.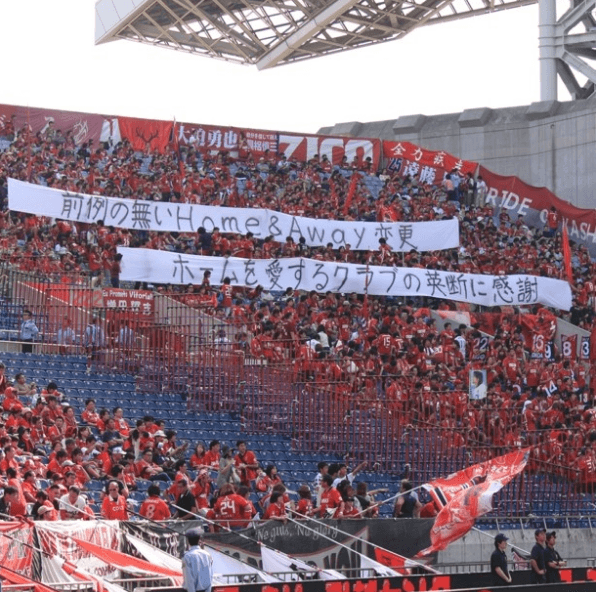 Over three months after they were originally scheduled to meet, Kashima Antlers hosted Vegalta Sendai on July 17, 2011 in a 3-0 win at Kashima Stadium, known by many as the House that Zico Built. Less than one month later, Antlers won 1-0 at Yurtec Stadium in Sendai. But perhaps more important than the result was the presence of some 17,120 fans in Kashima and the 19,224 in attendance at Yurtec, a sight that perhaps felt so far away less than half a year prior.
When the two teams meet on Saturday, they will do so under very different circumstances than they did five years ago. Kashima Antlers, who won this year's J1 First Stage, are gathering their energies for a run at the J.League Championship at the end of the season. Meanwhile, Vegalta Sendai have endured peaks and valleys and will simply be looking to stay above the relegation dogfight. But before, after, and perhaps even during those 90 minutes, the fans gathered at Kashima Stadium will again be united not just as fans, but as a community.
Dan Orlowitz is a photographer/translator/writer for Football Channel. Follow him on Twitter at @aishiterutokyo