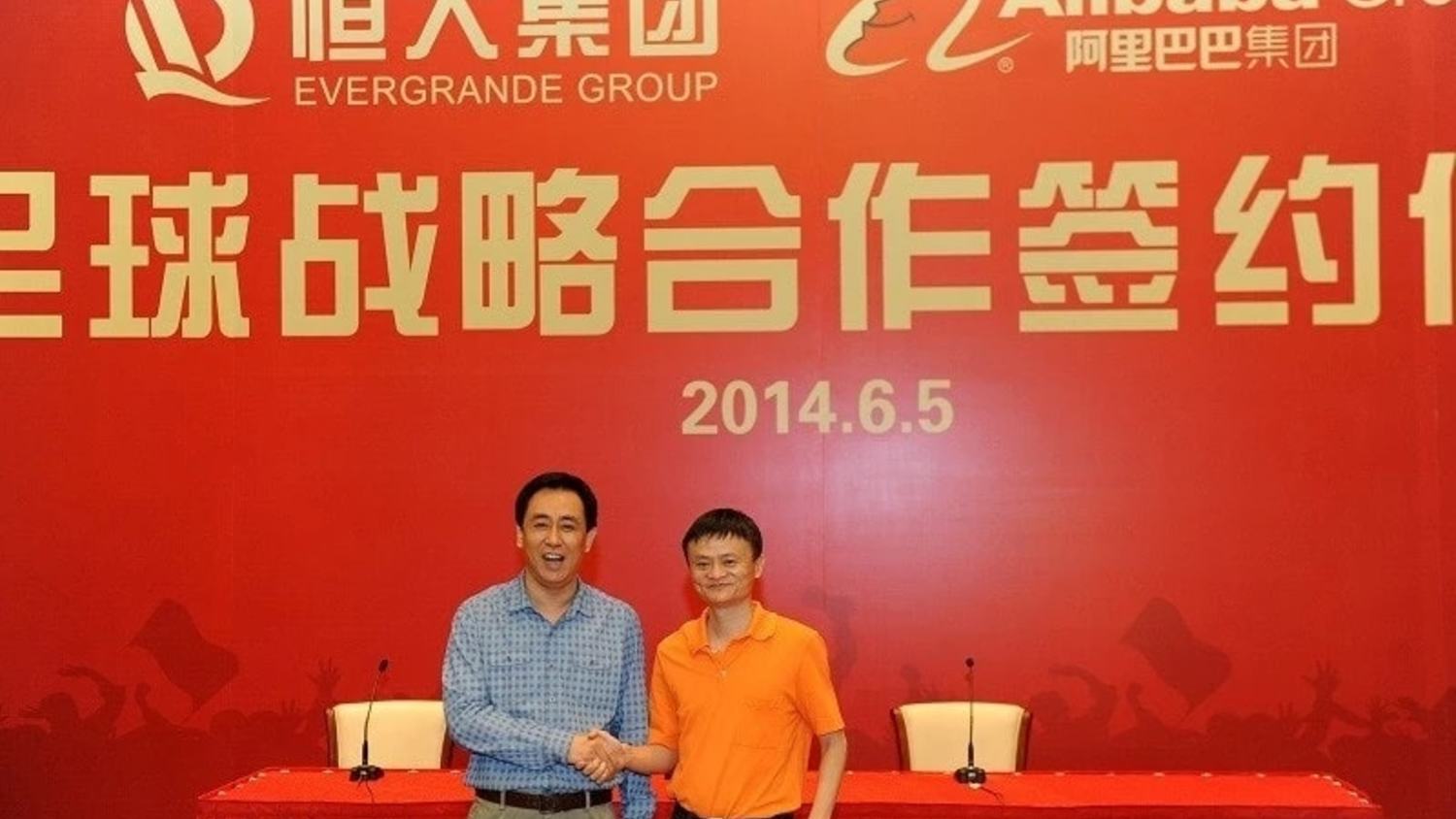 Money Talks: Chinese Football Revolution
When it comes to the football calendar, February is usually a quiet month. The transfer window is over, there are no big tournaments, the Champions League slowly returns and the major European leagues are still some way away from the dramatic run-in we all look forward to. it is similar the world over, as the big leagues are either at the beginning of or in-between seasons.
The events of the past two weeks represent the biggest attempt at disrupting the world football hierarchy in a long time. The Chinese Super League has been dominant in the Asian market for some time, attracting the likes of Gervinho and Guarin from top Italian clubs this January, but a string of record-breaking transfers over the past fortnight have caused a global shock.
While the deadline day in five major European leagues was entirely hijacked by Pep Guardiola's (widely expected) announcement that from the summer on he'd be the Man City manager, the Chinese Super League teams just waited for their moment.
Jiangsu Suning's signing of Ramires towards the end of January, huge as it was (28 million euros), still didn't attract too much attention. The Brazilian midfielder had long been on fringes at Chelsea, even during the painfully poor season the Blues are having his term, so it was somewhat expected that he would move to a rich and ambitious league that craves players with strong CV's, though perhaps not so strong in terms of their current abilities.
The game changed in early February, when out of a sudden Guangzhou Evergrande broke the Asian record by acquiring Jackson Martinez for 42 million euro. The Colombian had spent only seven months at Atletico Madrid, scoring just three goals in 22 games and none since October. Last summer he had been signed from Porto after scoring 20+ goals in four consecutive seasons. His poor showing this season didn't stop Los Colchoneros from making a healthy seven million profit on a player who turns 30 in October.
Then came the real bomb. Even before the January transfer window it was widely expected that Shakhtar Donetsk's free-scoring forward Alex Teixeira would move to the Premier League. Chelsea was in pole-position for his signature, but as January dragged on Liverpool became hot favorites. However, their refusal to accept the price the Ukrainian club had set for their forward proved to be crucial. But instead of spending another six months in Ukraine, Teixeira will play for one ex-Chelsea man (Dan Petrescu) and with one ex-Chelsea man (Ramires) on the other side of the globe with Jiangsu Suning. The fee, believed to be 50 million euros, eclipsed that paid by Evergrande for Martinez.
The ambitious Jiangsu Suning seems ready to make its final step towards glory. Ever since they broke into the top four in 2011 the Nanjing-based club has gradually grown into a formidable power. A year later they were league runners-up, in 2013 they won Super Cup, and in the past two seasons they made it to the Cup finals, losing one, and winning the other, their first major trophy. That piece of silverware meant that, despite their mid-table league finish, Jiangsu would play in AFC Champions League. Their new owners, retail giants Suning Commerce Group, decided to invest heavily in this transfer window.
After breaking the record twice in a week, their next foreign import was Jo, another Brazilian with Premier League experience. The former City and Everton man joined from Al Shabab, a club in the United Arab Emirates. Six months before another import from UAE had marked the beginning of the Chinese football revolution. Asamoah Gyan's exit from the Premier League at his peak was a shock, but when he left Al Ain for Shanghai there were no doubts about why that might be the case – you can't really say no to 300 thousand euro per week, can you? His new teammate Elkeson joined from Guangzhou for the highest domestic transfer fee – 18.5 million euro.
Teixeira's fee has helped the Super League surpass the Premier League as the top spenders this winter (and the 200 million mark as well), but the Super League teams have only just begun – their transfer deadline is at the end of February and there is a lot of money to be spent. The reaction all over Europe has bordered panic, as shown by Arsene Wenger:
"The Premier League should be worried, because China looks to have the financial power to move a whole league of Europe to China. We are long enough in this job to know that it's just a consequence of economic power and they have that. Will they sustain their desire to do it? Let's remember, a few years ago, Japan started to do it and slowed down after. I don't know how deep the desire in China is, but if there's a very strong political desire, we should worry."
Wenger should know it, not only because of his own Japanese experience. After all, his close friend and star player back at Nagoya Grampus Dragan Stojkovic saved Evergrande's local rivals Guangzhou R&F from relegation last season as their manager.
Before they could compete for top players, Chinese clubs concentrated on attracting big names in management, starting with former Wolrd Cup winner Marcello Lippi and former French international Jean Tigana.
This season Super League teams have employed two former Brazil managers in Mano Menezas and Felipe Scolari, former Milan coach Alberto Zaccheroni and a certain Sven Goran Eriksson.
Only three clubs are managed by Chinese coaches, with three Koreans and three from former Yugoslavia as well.
For a long time Chinese clubs could attract only average players from Latin America and Eastern Europe, paying them decent, but by no means extraordinary wages. Similar players now ply their trade in the Chinese Second division, which is nearing the 50-million mark in transfer fees itself, beating the Bundesliga, La Liga and Ligue 1 in the process.
China seized the opportunity created by the worldwide economic crisis. Brazil's recent instability made it difficult for their clubs to keep their top players and so many of them decided to cross the ocean. But this time it was the Pacific not the Atlantic. Currently there are 21 Brazilians plying their trade in Super League teams (23 if we count Brazilian-born Croatian international Sammir and former Brazil international Jucilei, who holds a Palestinian passport and thus qualifies as an Asian player), and many more could join them, with yet another Chelsea player Oscar being frequently mentioned.
Turkey's recent problems opened the door for Burak Yilmaz to plan a move eastwards. The Premier League is no longer the automatic destination of choice for quality players, and most other leagues simply cannot compete (the likes of Real, Barca, Bayern and PSG will surely know how to fend off any Chinese advances, but the rest of the teams in their leagues might be in big trouble). Eriksson was happy to explain this sudden football frenzy in East Asia:
"It is an emerging league, which is why they are attracting such big names. There will be more to follow. The football is improving all the time and they are very ambitious with the national team."
The Chinese national team has been underachieving for more than a decade. At the turn of the century there was wide spread hope that Team Dragon would finally earn a place among the world's top footballing powers, just like their regional rivals South Korea and Japan. China managed to qualify for the 2002 World Cup, before making the Asian Cup final in 2004. But the glory days were short lived.
They have been knocked out early at every attempt since, often failing to get to the final qualifying round. In January 2015 they finally made it through the Asian Cup group stage, only to lose to Australia in the next round. In their ongoing attempt to get to the 2018 World Cup they have failed to score against Hong Kong in two games. At one point, after a shock 5-1 loss to unfancied Thailand, China fell out of the FIFA top 100, and at the moment they hold 91st position, truly terrible for the world's most populous nation.
For a long time China was unable to produce a single player that could emulate Sun Jihai's fine career in England, let alone a strong team. But now things are changing. After the huge success they achieved at the 2008 Beijing Olympics, the Chinese realised that careful planning and a lot of effort all but guarantees progress.
When Xi Jinping was elected president of China in 2013, most people thought his three-part football dream – to qualify for the World Cup, host the event and then win it one day – was nothing more than a fantasy.
After all, we the fans, and Xi is an ardent Man Utd fan by admission, do fantasise a lot about football. But once in power he managed to turn his dream into a gigantic 20-year plan aimed at bringing China to the top of the world or near enough.
The plan is based on a dual approach, one for the present and the other for the future. By bringing in up to 35 top players they want to quickly make the Super League much stronger and their teams more competitive in Asian competitions. So far so good – five-time champions Guangzhou Evergrande have won the AFC Champions League twice (2013, 2015) and recent additions at other clubs have all but guaranteed an interesting season ahead.
On the other side of the coin, an enormous plan was set in motion in order to produce more homegrown talent. The sheer numbers are scary: 20 thousand football schools are to be opened across China before the end of 2017; their goal is to produce one hundred thousand players. To put it in context – all the teams in the 53 top European leagues have less than 20 thousand players combined.
With frequent visits by Europe's big clubs and numerous ties between them and Chinese academies (Guangzhou leads the way here too – their 2200 young players are coached by 22 Spanish coaches acquired from Real Madrid), there is no doubt that the plan can be fulfilled. Still, it's too early to make bold statements.
Chinese football has a long history, but professionalism is pretty young by global standards. It was only in 1994 that their first pro league (Jia-A) was formed, which transformed into the Super League in 2004. Back then they had hard time attracting sponsors and badly needed to fight off corruption. After a swift action in 2010, which led to numerous arrests and prison sentences, match-fixing is considered a thing of the past, and one by one big companies have shown interest in the league.
Ping An Insurance, the league's current sponsor, pays only 20 million for the honor, but the next contract will surely be much bigger. Most of the clubs are either owned, or sponsored by industry giants, from Alibaba (part-ownership of Guangzhou) to numerous real estate or retail companies, banks and insurance firms.
This season saw national broadcasters jump the bandwagon, with a ludicrous year-on-year rise in TV money from 7.5 to 215 million per season (the five-year-deal running from 2016 to 2020 is worth a staggering 1.075 million euros).
No wonder they broke last year's record spending (108 million in both transfer windows) in the first week of February.
Hopefully the TV deal won't mean that attendances drop, now they have reached 22,193 spectators per game (only twenty behind the Serie A and nearly a thousand more than MLS and the Argentine Primera).
Guangzhou, expectedly, leads the way here as well, with nearly 46,000 fans every other week.
Getting top stars seems to be a pretty good way to avoid the drop. After seeing the way local fans reacted to recent summer tours by European clubs, it is easy to predict how they would welcome world-renowned players at their own clubs. Radamel Falcao is surely the next target, given that his team, Monaco, can't afford him and the transfer deadline in most of Europe is over.
Nikica Jelavić and Cheikh Tiote have already been mentioned, while by applying basic logic the names of Luiz Adriano, Fernando Torres and Papiss Cisse come to mind instantly. Yaya Toure has already announced he will leave Man City this summer, and Chinese clubs are rumored to be ready to offer him more than 30 million euros a year.
Over the following three weeks pay attention to China-related news as one thing is for certain: the Chinese football revolution is in full swing already.