The Spanish magazine Panenka is dedicated to the romance of football. Covering amazing fan culture inside and outside the stadium.
The Collective is a curated community that brings together the people defining the future of football fan culture; a handpicked group of publishers, artists and organisations who are our belief that football is more than a game and has the power to unite people like nothing else does.
The referee blows the whistle and the match begins. Atletico Nacional against Once Caldas, in what's one of the last fixtures of the Colombian tournament.
From the stands you can hear:
"Olé, olé, olé, olá/ vamo' campeón, hay que ganar/ por los parceros, que ya no están".
"Olé, olé, olé, olá / come on champions, we have to win / for our buddies (parceros), that are no longer with us"
The fans also hold aloft a banner that reads "Los Parceros Presentes" (Buddies present).
It's December in Medellin and the stand pays tribute to those who've lost their lives. The flag represents each piece of material former fans would have worn proudly. What is poignant, is that this banner takes up almost half the stand. The fans are one in their decision to honour them and remember them through a song and banner. They sing "in the stands there is also life and we want to share messages of life. Because football is that: it's joy, it's passion, it's love."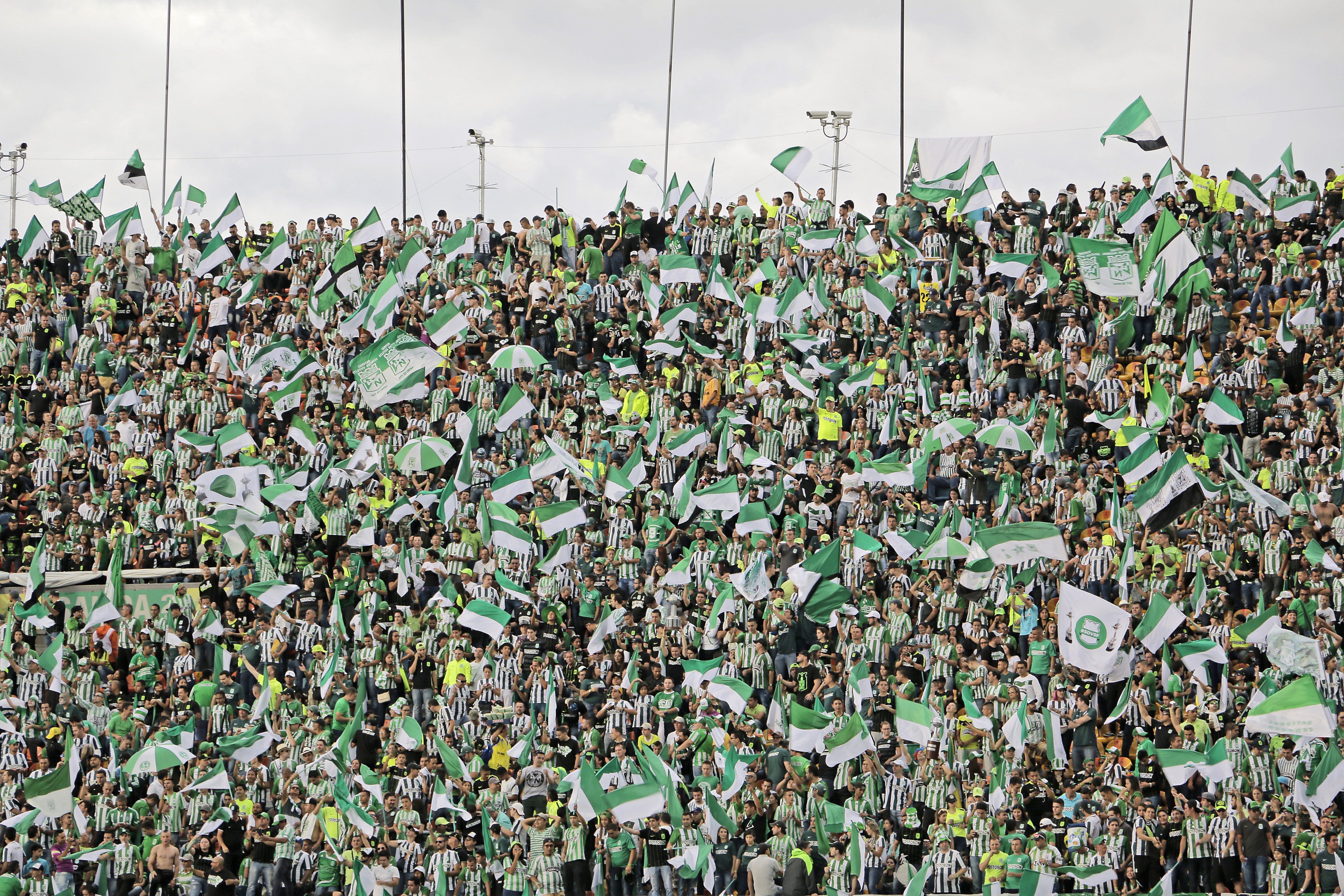 This story begins, like all stories, where another one ends. The story that has come to an end was born in 1989 in an upper stand of Atanasio Girardot Stadium, in Medellin, Colombia. Or rather in a specific zone of that stand. A zone "closed" with cords, to ensure not just anyone could enter. Only those who belonged to the barra brava "Escándalo Verde" (Green Scandal) could join. To join them (the 300 or so members) you had to pay for a shirt as registration. They were a almost like an elitist "ghetto", for example: the footy Paisa (someone from a region in the northwest of Colombia) who also support Atletico Nacional but had no money could not join them.
By the middle of the decade, with Pablo Escobar already dead, the country entered a period of political change: debates began, and questions of the existing government began to be raised. It came to a head and the left party advanced against the state. The same could be seen in football, which often goes hand in hand with the political climate. In the stands of Atletico Nacional, they began to question the zone that was cordoned off. A group of fans wanted a "more popular" supporters group. Therefore the barra Los del Sur was founded in 1997 with new ideals. Anybody could join, whether they were construction workers, peasants, employees, hired assassins or unemployed it did not matter. Nobody was charged for a season ticket or shirt.
To further explain how this change within the stadium impacted the stand, three months after that match against Once Caldas, in the library from the social headquarters created and maintained by the barra, Panenka met Raul Martinez. He has been a speaker at events for National Security in football. He directed the project "Con la pelota en la cabeza" (with the ball in the head) for several years, together with the Government of Antioquia and he also is the coordinator of the Cultural Center "Los del Sur".
In addition, he's a member of the leadership board of "Los del Sur" barra. In fact, of the 25 that make up the front line of the barra, more than a half are professionals. You'll find sociologists, teachers, psychologists, lawyers. Educated people who are part of generations that have been born and raised in the midst of violence. They argue that it makes no sense to bring more violence to a city and country that's suffered so much.
In a city that had more than 7000 homicides per year. A city that had the world's most violent drug trafficking cartel: land of assassins, has, paradoxically, the most educated, social and strongest fight against barra violence in the world.
Can you say that "Los del Sur" is a left (socialist) barra?
There are always problems if someone generalises. One can't argue "everyone from Los del Sur have ideals from left wing". However, what we do have is a tendency within the leadership of the barra: to support the social and popular struggles. For example, going out to march in support of the working class every May, to be on the side of the students with their struggles and to reject and protest against the United States and the Empire. When Bush came to Colombia in 2007 "Los de Sur" tied a flag saying "Fuera Bush (Bush Out), another América is Possible". Also, every December 24th we organise the "Verdolaga Christmas" where we give away 1300 toys to children from a poor neighborhood of the city. In March, we  deliver materials and aprons for the start of classes and have a presence in prisons. Furthermore they coordinate a cultural center that cost us $1.500 a month and is open the the entire city and is free.
How did you manage to stand against violence in such a violent city?
We grew in popular neighborhoods and were fortunate to be able to study at public universities. That gives you another world, and other ways of seeing the world. We are working class, but educated, and we also lost friends or family because of violence in the country. So we encourage the youth to study, to take care and behave well. We say we are more than a barra brava (hooligan group), a "Barra popular" (popular supporters). We identify with that term. We say no, we don't tolerate a death for football. Just as we do not tolerate a death for being from a left tendency.
You must be in Medellin to feel what is violence. Violence is six million displaced peasants whose home and lands were taken and simply forced to other cities with nothing, who now have to beg. Violence is the thousands of individuals who've disappeared in a country that is supposed to live in democracy, but has more disappearances and political assassinations than a dictatorship. Violence is to celebrate a year where there is less than 2,000 homicides in the city, or days without a single death. But violence, above all things, is that everything narrated has become natural.
If you see them on the TV you will notice that they are equal to other South American barras; they tie big flags and hang from them to celebrate. They sing the whole game and play drums. While the leadership of the barra are 25 people, the rest of its members can fill the popular stand. They receive the team with sparklers and confetti. They believe, like the rest of the barras, that with their support they can influence a result. But from the club they don't get anything, not even game tickets.
In our cultural project "With the ball in the head" we invited other fans from other teams. In Argentina or Chile that is impossible to happen. However, we do it because the guys from other teams are dudes who have the same problems as us. We suffer the same, the only difference is our shirt. We should be fighting together to change our way of life. It makes no sense to say that we are solidary if after all we kill each other. If we want to be solidary, it must be for all. And if we will be inclusive, it must be with everyone.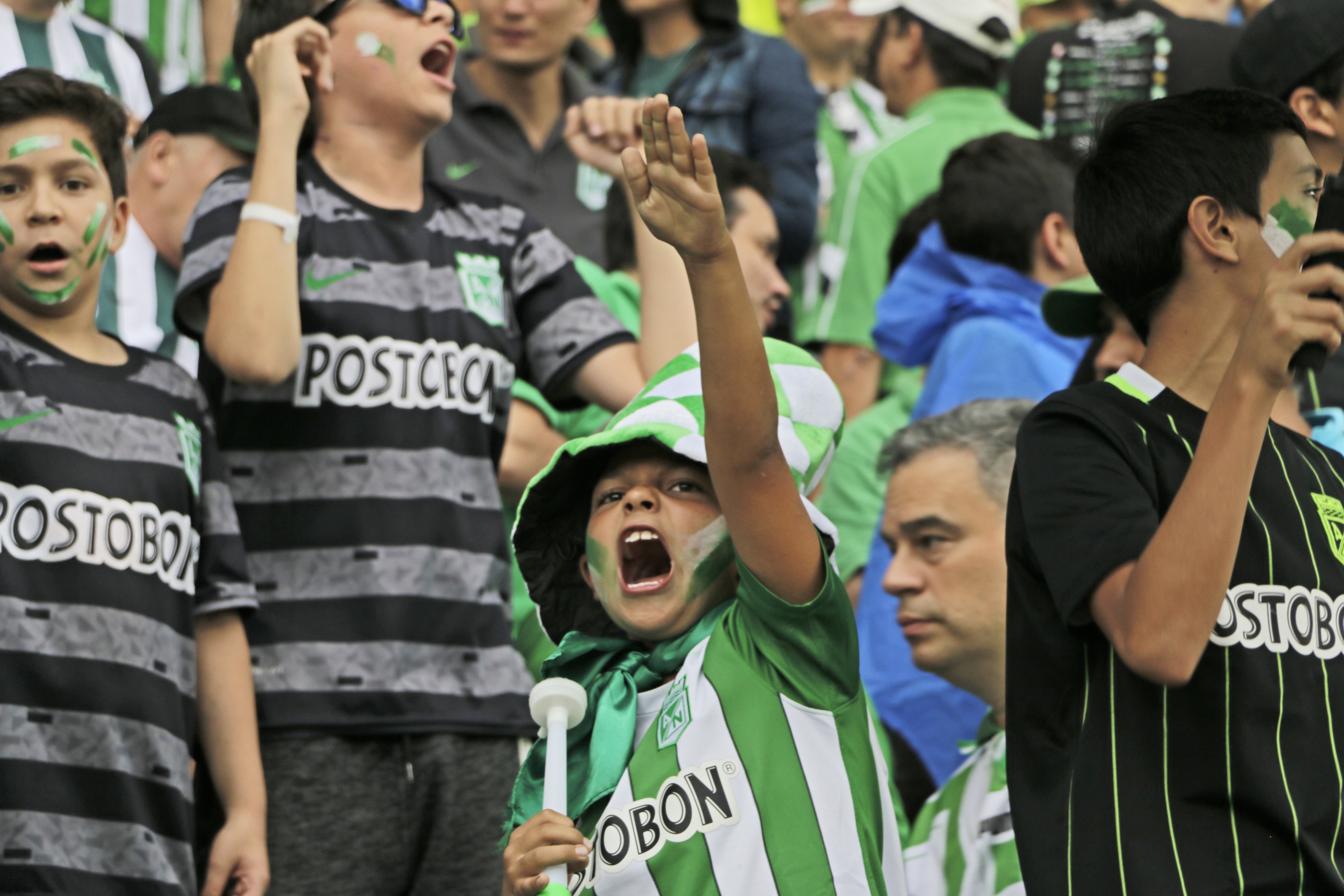 Why is there so much violence? In football and in the world.
We believe that many people are in prison or on street corners selling drugs because the state has no presence in places that breed this guys. They never had opportunities to work or study. Almost all households have a relative killed in violence. Often the mother represents both mom and dad, and must go to work all day, leaving their children to raise themselves in danger without any company. I can not stand with the murders, but I also think you need to understand a little bit why people do the things they do. Hopefully we can have a city without detentions or murderers. In that case, we would be the city of opportunities. In the stands we sing that the other don't exist. Let start from the point that they actually do exist. They may not be our friends, but not an enemy or someone who we want to kill. We rejoice at the score, we laugh at them, but that can't lead to death. We must recognize them as fans with the same feelings as us.
As a sociologist, why do you think that this guys aspire to become violent barras?
It is about a competition, to see who is the baddest of all barras in Colombia: you'll see many with caps, hoods, tattoos…pretending to be something they're not. In a country like ours, the bad guy is not interested in looking bad. The meanest people I met in Medellin have a stupid face and dress like a regular person. Because if you have bad face, the police will identify you in every corner. Many times, the fight between barras is a children's game playing to be bad.
In the recent months, one of the most important TV channels in the country presented the program " The Color of Passion", a reality with the participation of eight of the most popular barras from Colombia competing for a prize of $50.000, to be the best barra in the country. This is measured by their songs, receptions and flags. "Los del Sur" were the only ones who decided not to participate. They left a message that was issued in the first program, and continues to make them different. In Colombia and the rest world: "we decided not to participate because there was a consensus among members of the barra. What we do, we do for love of Nacional. We are not going to invent a song to win a prize. We will not do a good reception for another prize, everything we do for our club. We do it from our heart, without any economic interest".