In a city of startups, San Francisco City Football Club stands out. The supporter-owned club is providing the highest level of soccer in San Francisco in almost a decade, and in doing so, is growing a thriving soccer culture within an already sports-mad city
Words By: Maura Gladis  
"Being here and having the sort of culture that's in San Francisco, people are used to having things built from the ground up and becoming a company a few years later, so it's inspiring for folks to take it on. The idea of building a pro team from the ground up resonated with a lot of people," said club president and former SFCFC player Jacques Pelham.
Founded in 2001 as a men's recreational team, SFCFC spent more than a decade in the San Francisco Soccer Football League, working up to the Premier Division in 2012. However, in 2011, Pelham started reaching out to influential members of the San Francisco soccer community about building a supporter-owned club. 
"We looked at overseas at how the teams operate in Germany, and how important those clubs are in their community, partially because they have a say in how they operate," said Pelham.
The club began offering membership in 2014, and now runs on a 51/49 business model, where members hold a 51% stake in the club as a non-profit entity, while investors own 49%. This allows members to have final say on key team decisions, including the crest, kit sponsors and field location. This distinction is important to the team, which is committed to maintaining a connection to the community of San Francisco, which, because of the ever-changing nature of business in San Francisco can see high turnover. 
"San Francisco is an extremely innovative city. There's so many tech companies here, there are so many jobs that are opening up, that you sometimes lose a sense of community, you lose a sense of your local vibe," said SFCFC media director Charles Wollin. "So, we're really about making our community feel smaller and provide an avenue to connect with other folks from all walks of life who want to build a soccer culture in a world-class city like San Fransisco."
SFCFC plays its home games in Kezar Stadium, a historic venue that was home to both the San Francisco 49ers and Oakland Raiders in the 1950s and '60s and sits at the foot of Mount Sutro, providing a picturesque atmosphere for the club and it's supporters group, known as the Northsiders, to promote the game in the city.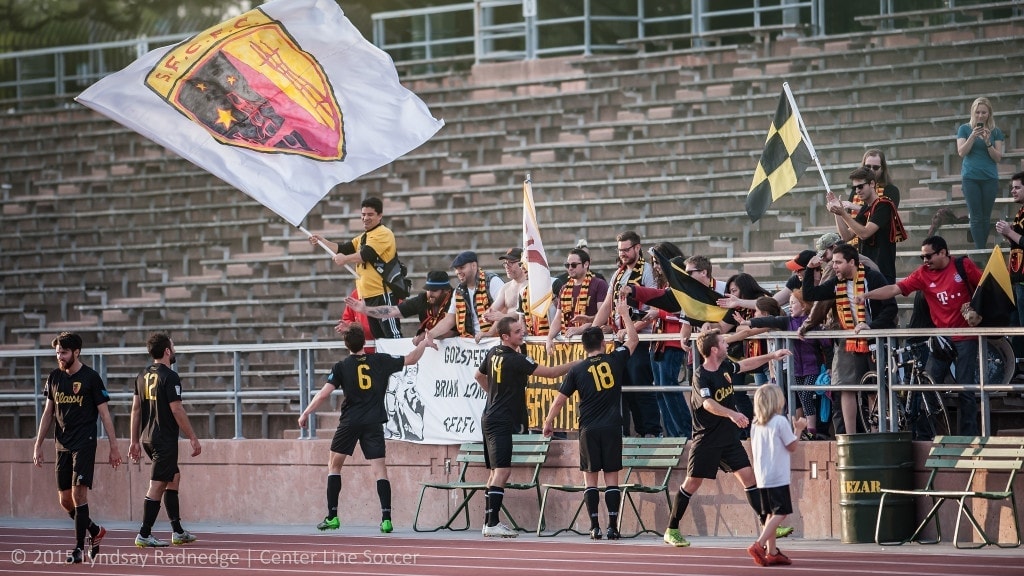 Despite having a thriving professional sports culture, with the 49ers, Giants and Golden State Warriors all enjoying recent success, only the Giants play within the actual city of San Francisco, an important element of SFCFC's identity. 
"When we started out, we wanted to build something that San Francisco could embrace, and that was never going to leave San Francisco or just use San Francisco as a flashy name" said Pelham.
Throughout the entire process, the team has enjoyed overwhelmingly positive feedback at both the local and national level. 
"We've been very fortunate to have such great feelings and energy around the process, and the positivity is off the charts," said Wollin. "It's cool, because you look at the landscape of soccer in this country, and you see all these mid-major cities popping up with soccer clubs across the nation. We've seen tremendous growth for the game, and that's something we're very happy to add to."
Beyond forming a strong soccer culture, the team is also focused on growing the quality of play on the field. It was recently accepted into the Premier Development League, a league sponsored by the United Soccer Leagues, making it the highest-level of soccer in San Francisco since the California Victory, a USL First Division side, folded in 2007. 
SFCFC will also compete in the U.S. Open Cup for the second straight season, and because of an automatic bye have already qualified for the first round, where if they continue to advance they'll have an opportunity to potentially face off against some of the nation's best teams.
"Last year was the first year that a team from San Francisco qualified for the Open Cup in over a decade," said Pelham. "It's huge focal point. Being a lower level team, the Open Cup is your chance to make some noise, take down a big team, and really make noise on the national level."
If SFCFC's recent history of what the club and it's members are capable of when given an opportunity, then there's no doubt you'll continue to hear about San Francisco City Football Club for years to come.
Click Here for more on the Future of Fan Owned Football