For the latest episode of In Exile, Billy Keenly visited with Real Madrid fans in Manhattan for Zidane's first match in charge of the club as manager. Keep an eye out next week as KICKTV releases the next episode of the In Exile series.
Words & Photos by Braden Ruddy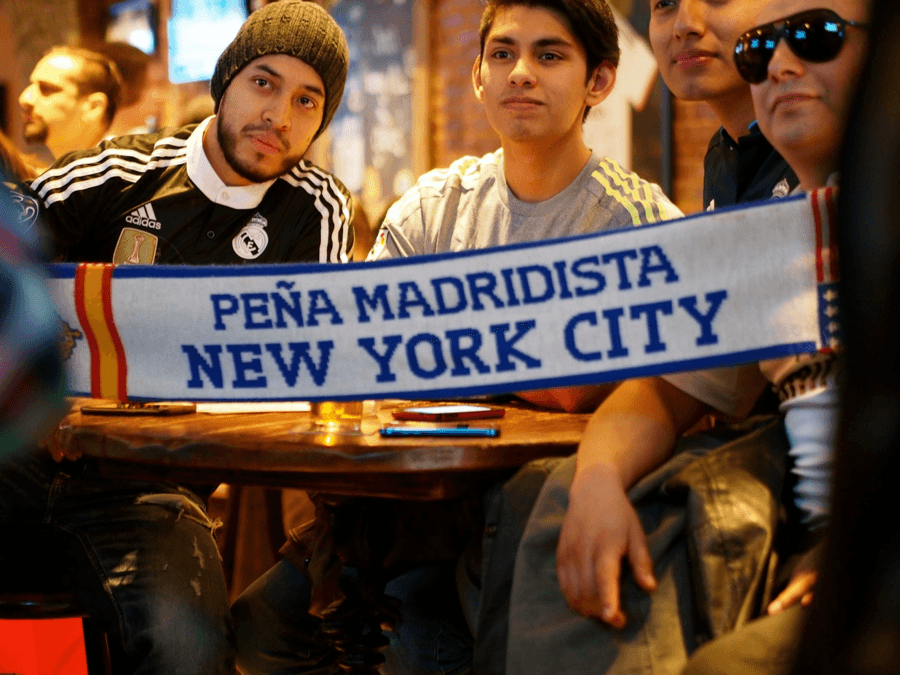 On Saturday January 8th, KICKTV was on hand in New York City to watch club legend Zinedine Zidane's home coaching debut alongside the faithful supporters who make up Real Madrid's official New York City fan club (Peña Madridista NYC).
The experience provided a lively glimpse into one vocal subsection of New York fan culture and demonstrated the global scope and popularity of the most decorated club of all time (32 La Liga titles, 10 Champions League trophies, 19 Copa del Rey Cups) in the most diverse city in the United States.
Indeed, Peña Madridista NYC exemplified Real's international popularity as fans from Spain, the Americas, France, North Africa, and many other locales raised their pint glasses together on an unusually warm January afternoon in Manhattan to multilingually cheer on Zidane and Los Blancos.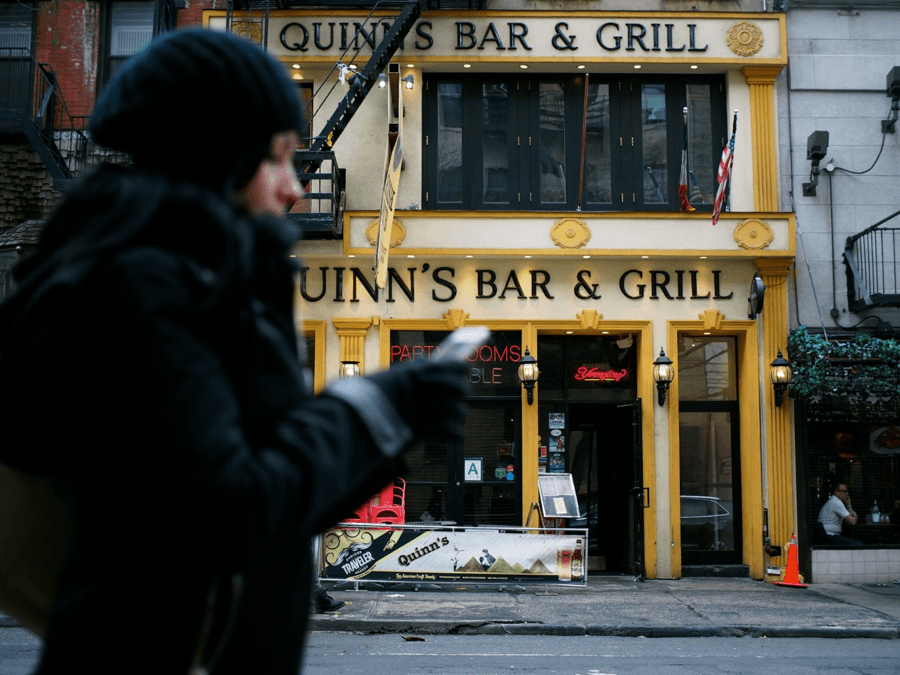 Just blocks from the neon tourist glow of Times Square, Quinn's serves as the official headquarters for Peña Madridista NYC. This Midtown Manhattan Irish bar may seem like an odd choice as the weekly destination for the most rabid Real Madrid fans in the city, but the flags, autographed Los Blancos shirts, and club scarves somehow manage to blend seamlessly with the dark wood Irish pub aesthetic and Iowa University football regalia inside.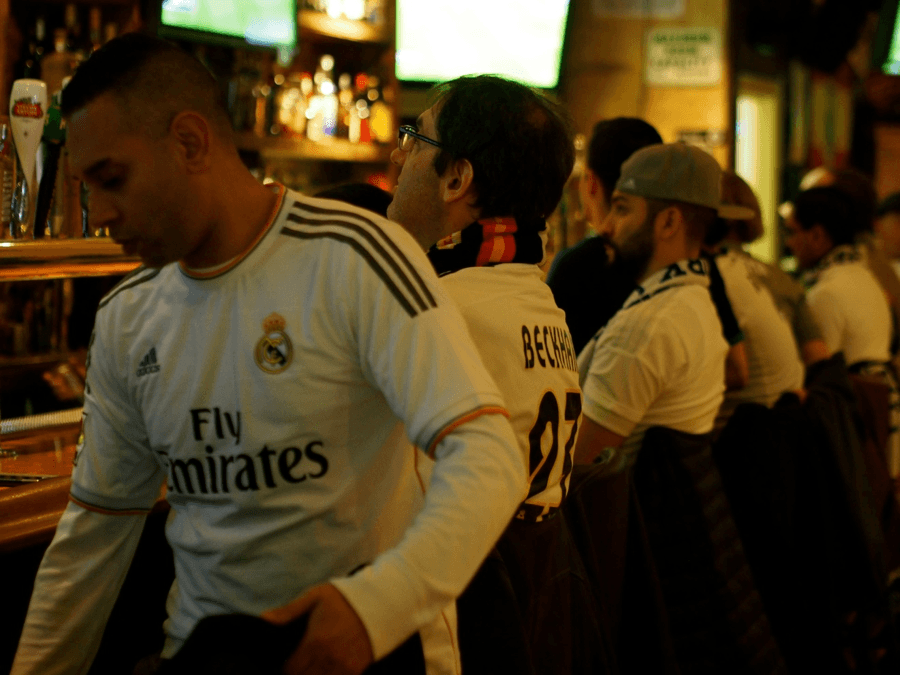 Peña Madridista NYC was founded in 2003, and then became officially chartered by the club in 2007, during the original Galácticos era. Many fans were proudly sporting Beckham, O.G. Ronaldo, Raul, and Zidane shirts from this founding period at Quinn's for the first game of the second coming of Zidane.
The bar was buzzing with excitement over Zidane's managerial appointment and many fans spoke of their hopes of Zizou instilling his creative magic and attacking verve on the team. We counted no less than eight Zidane shirts on the day.
Nevie, left, is originally from Nicaragua (where he is also an honorary member of La Peña Madridista los Profetas de Nicaragua) but grew up in Queens. Pedro hails from Mexico City and has lived in Brooklyn for years, supporting Los Blancos alongside Club América.
Real Madrid claim to have 450 million fans around the world (6 percent of the global population) and are absurdly popular in Latin America where many fans choose between Real Madrid or Barcelona, in addition to their local club, at a young age. "Supporting Real Madrid in New York and being a member of this Peña just feels like family," Nevie says proudly.
At the start of the match, some of the supporters tossed out a few colorful Spanish insults about club President Florentino Pérez while, at the same time, firmly letting their backing for Zidane be known.
When the French forward's deft flick hit the back of the net there was a sense of relief amongst the celebrations that Real Madrid's Zidane era was off to the storybook start they were hoping for.
In addition to being the headquarters for Peña Madridista NYC and drawing regular Spanish futbol fans, the Midtown Irish bar also serves as the official home turf for displaced Iowa University football fans in the city.
Peña Madridista NYC members often travel from across the New York metro area to attend matches. Luis (seated in back) drove in from New Jersey with his two young daughters and wife. "This is our second year with Peña Madridista NYC, we try to come as much as we can," he says.
"I actually arrived yesterday from Spain, this is my first time here and it's great," David says. A Spanish professor in North Carolina, David has been a Real Madrid fan his entire life and used to take the train to see Los Blancos play in Spain regularly when he was growing up. "Today is special for me because Zidane is my idol," he tells me. "When people ask who is number one, Ronaldo or Messi? … For me, Zidane is number one."
"This is the right start for Zidane, everyone is fighting hard for their place and the team and we are attacking well," Redwane tells me as hat-trick hero Gareth Bale runs riot over Deportivo's defense. He was glad he came to see Zidane's coaching debut amongst like-minded fans.
"In Morocco there are so many Real Madrid and Barcelona fans, the whole country is divided, even my own family," he says with a laugh. "I support Real along with my father and brother, while my mother and younger brother root for Barca," he continues. "We have a lot of pressure in terms of politics and economics right now in Morocco and the rest of the Middle East, but soccer—particularly Real Madrid—gives us oxygen and a reason to breathe despite everything else going on."
Nearly every time Zidane appeared on screen, the Real Madrid fans vocalized their excitement. In a team already boasting Cristiano, Bale, Benzema, Isco, James, and more, the bald 43 year old Frenchman of Algerian heritage in the suit on the sideline felt like the biggest star of them all.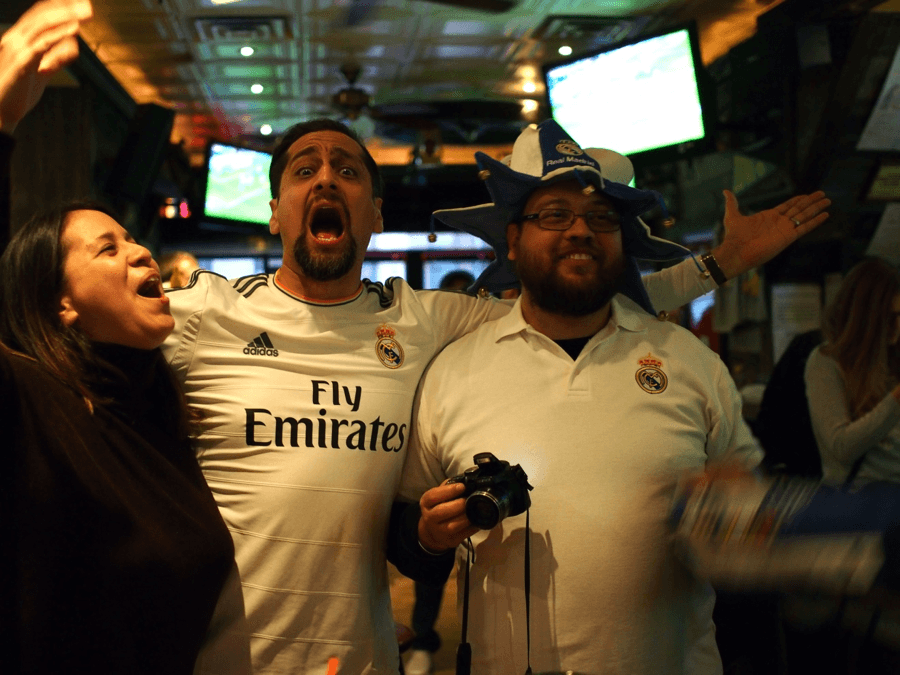 An emphatic 5-0 victory for Zidane's men added to the festive atmosphere after the game. Hopes were high that Zizou has what it takes to rejuvenate a talented yet underperforming (for Real's lofty standards) side sitting in third place in La Liga and steer them to the club's 33rd domestic title. Can they do it? Peña Madridista NYC will be at this dark Irish Manhattan pub each week until May, cheering them on from afar, and hoping they can.