Diana is from California but grew up in Iraq, within a culture in which it was frowned upon for females to play football. This has led her to write about issues within the game that are culturally rooted with the aim to voice these to a wider audience. For inspirational writing and for work on the cultural side of football, please read Diana's brilliant work.
An invite-only creative community of fans around the world giving a truly global view on football, from the perspective of the people that matter most. Our Creators are undiscovered filmmakers, artists, creators and storytellers….but most importantly they're fans, capturing amazing expressions of football culture for Copa90 around the world.
Pelé, one of the most recognized figures in sport around the world. He played the game in a style like no other before him, Pelé personified Jogo Bonito "The Beautiful Game." A name that needs no introduction, he was a key part in making football the global phenomena that it is now. A winner of a record three World Cups and over 1000 goals, no wonder he is considered the best ever by many football fans and experts.
IMAGES: Luis Bueno
What do London, Santiago, São Paulo, Rio de Janeiro, and the Island of Marajó have in common? A "Pelé Kisser."
São Paulo based artist and teacher, Luis Bueno, started this series in 2010 titled Pelé beijoqueiro "Pelé Kisser." The artist has his series on display on poles, walls, fences, or any other vertical surface. The idea came to him after a friend of his showed him a photo of Pelé kissing Muhammed Ali from the time that Pelé played at NY Cosmos. The picture for him, represented a symbol of affection and at the same time the encounter of Brazilian culture with different cultures.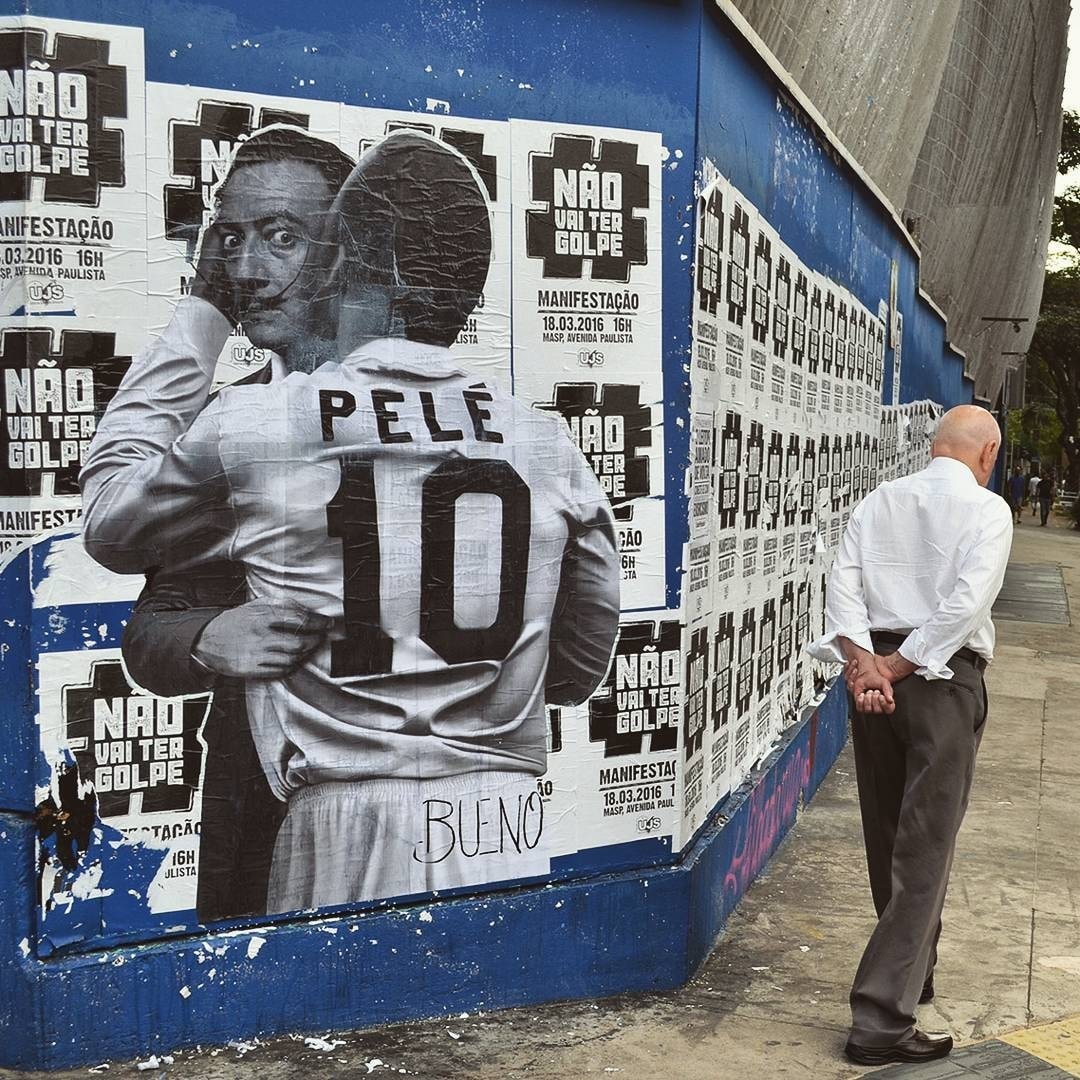 He then thought of changing Ali for other different and well known characters, and transformed the images digitally and started doing the pastings on different streets.  His work is described as mixed media. He works mainly with paste-ups, but likes to mix with it paining which he does over the prints to create his series in which the legendary player appears involving a different character in his arms embracing them with a kiss on the cheek. The King of football has already been seen holding figures like Mona Lisa, Marilyn Monroe, C3PO and Chewbacca, from the "Star Wars" franchise; the super heroine Wonder Woman; surrealist painter Salvador Dali; Chileans Pablo Neruda and Salvador Allende; the musician Bob Marley; and more recently, the British musician David Bowie.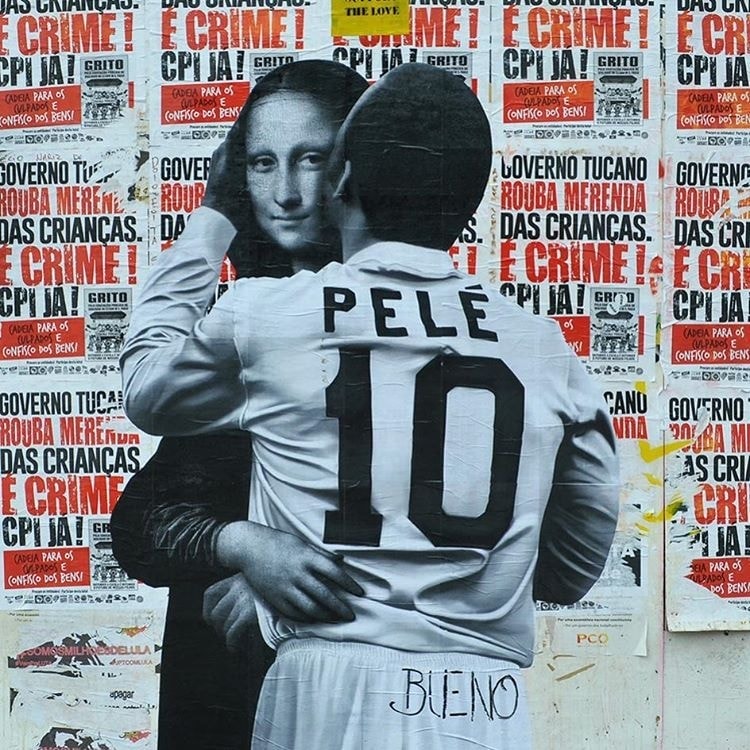 "The idea is to promote a meeting of cultures. Pelé is a great figure of Brazilian culture, and wanted to put him in contact with great, fantastic characters. The Mona Lisa is a great symbol of Western art; Allende and Neruda are significant local characters; and Pelé carries many cultural traits of ours." Says Bueno.
By 2017, Bueno looks forward to more international appearance for his series. Planning a trip to New York City, he wants to continue his series of Pelé, the idol of the Cosmos with the leader of the African-American Civil Rights Movement, Martin Luther King Jr.